Microsoft Virtualisierungs Podcast Folge 30: Windows Server 2012 R2 Hyper-V

Podcast: Play in new window | Download (Duration: 57:51 — 79.6MB)
Subscribe: RSS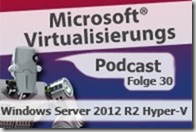 Microsoft hat auf der diesjährigen TechEd 2013 North America die Katze aus dem Sack gelassen: Windows Server 2012 R2 und System Center 2012 R2.
Ich war völlig baff, was Microsoft in solch einer kurzen Entwicklungszeit vollbracht hat. In diesem Podcast bespreche ich die virtualisierungsrelevanten Features in Windows Server 2012 R2 — und das sind einige!
Vorweg gibt es wie immer viele nützliche Links auf Blogposts, Videos & Audios und hinten raus Termine aus der Private Cloud Szene.
Ich wünsche Euch beim Zuhören viele Erkenntnisse und soviel Spaß, wie ich beim Zusammentragen der Infos hatte.
Shownotes:
Links und News (ab 1:11)
Der Hyper-V Replica Capacity Planner von Michel Luescher auf seinem Blog.
Microsoft Management Summit (MMS) 2013 Video Recording Catalog auf Stay Classy, With System Center Ramblings from San Diego
Windows Azure Backup einrichten von Toni Pohl auf TechNet Team Blog Austria
TechEd NA 2013: Some Sights From The Expo Floor von Aidan Finn auf seinem Blog
Video und Audio (ab 5:00)
Edge Show 62 – Hyper-V Server 2012 Cluster Deployment Using Free Tools mit Symon Perriman and Rick Claus
Videointerview mit Jose Barreto über SMB 3.0 von Carsten Rachfahl
Videointerview mit Mark Minasi über "Why should Admins learn PowerShell" von Carsten Rachfahl
Videointerview mit Aidan Finn über das Windows Server 2012 Hyper-V Installation and Configuration Guide Buch von Carsten Rachfahl
Videointerview mit Jose Barreto über die SMB Neuerungen im Windows Server 2012 R2
Schwerpunktthema "Hyper-V in Windows Server 2012 R2" (ab 9:04)
In der Woche vom 3. bis 6. Juni war die TechEd 2013 NA. Auf Ihr wurden viele Features von Windows Server 2012 R2 vorgestellt. Von den über 700 Sessions sind viele hundert auf Channel9 anzuschauen. Ich habe die Sessions die ich mir bereits angesehen habe in dem Post "Meine TechEd 2013 Session Favoriten" dokumentiert. Aus diesen Sessions habe ich auch die wichtigsten virtualisierungsrelevanten Features herausgezogen um hier darüber zu sprechen.
Gewinner der Buch Verlosung (ab 50:25)
Auf dem MVP Summit 2013 in Redmond habe ich mit zwei Autoren ein Videointerview geführt: einmal mit Leandro Cardos zu seinem Buch Windows Server 2012 Hyper-V Cookbook und mit Alesandro Carvalho zu seinem Buch System Center Virtual Machine Mananger 2012 Cookbook. Sowohl Leandro wie auch Alesadro habe mir für den Podcast ein Signiertes Exemplar zur Verfügung gestellt und Ihr erfahrt im Podcast wer diese Exemplare gewonnen hat.
Termine (ab 51:27)
Dell Solution Webcast – Hyper-V in Windows Server 2012 mit Carsten Rachfahl am 26. Juni
TechED 2013 Europa vom 25. bis 28. Juni in Madrid/Spanien
System Center Internals Day 2013 – Connecting SC Users am 28. Juni in Unterschleißheim
Build 2013 vom 26. bis 28. Juni in in San Francisco
What's New in Windows Server 2012 R2 Jump Start am 10 und 11. Juli prsiertiert von Rick Claus und Corey Hynes online
What's New in System Center 2012 R2 Jump Start am 15 Juli präsentiert von Symon Perriman online
Hyper-V PowerKurs V2 vom 19. bis 23. August in Hallenberg
ice2013 am 24. August in Lingen
heise Verlag Workshop: Hyper-V mit Windows Server 2012 am 5. + 6. September in Hamburg, am 5. + 6. November in Köln und am 5. +6. Dezember in München mit Nils Kaczenki
Hyper-V PowerKurs V2 vom 9. bis 13. September in Hallenberg
System Center Universe 2013 DACH vom 16. bis 17. September in Bern
Microsoft Server Summit vom 25. bis 27. September in Berlin
E2EVC vom 1. bis 3 November in Rom