Microsoft Virtualisierungs Podcast Folge 48 – Cloud & Datacenter Conference Germany

Podcast: Play in new window | Download (Duration: 57:46 — 79.4MB)
Subscribe: RSS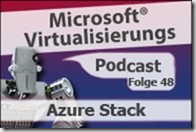 Letztes Jahr haben wir als Ambassador der System Center Universe geprobt, ob wir eine eigene Veranstaltung auf die Beine Stellen können; dieses Jahr machen wir eine!
Am 12. Mai findet die erste "Cloud & Datacenter Conference Germany" in Düsseldorf statt und deswegen dreht sich das Schwerpunktthema des Podcasts rund um diese Konferen
Vorweg gibt es wie immer viele nützliche Links auf Blogposts, Videos, Audios und hinten raus Termine aus der Microsoft Private Cloud Szene. Ich wünsche Euch beim Zuhören, viele Erkenntnisse und so viel Spaß, wie ich beim Zusammentragen der Infos hatte.
Shownotes:
Links und News (ab 1:17)
Virtual Machine Queue (VMQ) CPU assignment tips and tricks von Kaushik Ainapure auf Microsoft Networking Blog
How to enable Nested Virtualization on Hyper-V & Windows Server 2016 von Andy Syrewicze auf Altaro Hyper-V Hub
Announcing the Azure Automation PowerShell ISE add-on von Joe Levy
Hyper-V Documentation for All! auf Ben Armstrongs's Virtualization Blog
Blog Emfehlung Azure Community Deutschland
Microsoft Azure Stack – Guidelines for contributing ARM templates von Marc van Eijk auf seinem Blog
Introducing Server management tools von Kriti Jindal auf dem Nano Server Blog
Audio und Videos (10:45)
Neues Video – Hyper-V Amigos Chat am Grand Canyon auf Hyper-V-Server.de
Microsoft Techupdate #001 #Show von George Binder auf windowsblog.at
The Containers Channel auf Channel9
Videointerview mit Marc van Eijk über Microsoft Azure Stack auf Hyper-V-Server.de
Interview with an MVP von Dave Kawula auf Channel9
Microsoft Virtual Academy Hybrid IT Management Part 1: Insights, Visibility, and Security Analytics Online Kurs mit Matt McSpirit and Laura Cruz
Schwerpunktthema Cloud & Datacenter Conference Germany (ab 19:42)
Am 12. Mai ist es soweit – unsere Cloud & Datacenter Conference Germany findet zum ersten mal statt. Wir haben uns einiges vorgenommen. Hört selbst was wir in Düsseldorf allen auf die Beine stellen, wer die Keynote hält und wer alles als Sprecher zu welchem Thema da ist. Es lohnt sich.
Termine (ab 46:11)
Microsoft Technet Virtual Conference 2016 vom 1. bis 3. März Online
Microsoft IT Camp Modernisierung des Rechenzentrums – Virtualisierung & Storage am 10. März in Frankfurt
CeBIT 2016 vom 14. bis 18. März 2016 in Hannover
World Hosting Days vom 15. bis 17. März im Europa-Park Rust
Global Azure Bootcamp am 16. April überall auf der Welt
PowerShell Conference EU 2016 vom 24. bis 26. April in Hannover
Tagesevent VCNRW Sessions am 20. April 2016 bei Microsoft in Köln
"Cloud and Datacenter Conference Germany" am 12. Mai im Düsseldorf
E2EVC 2016 EPIC vom 9. bis 12. Juni 2016 in Dublin
SCU 2016 Europe vom 24. bis 26. August in Berlin
Microsoft Ignite 2016 vom 26. bis 30. September in Atlanta /USA
Im Abspann erwähnte Podcasts: