Microsoft Virtualisierungs Podcast Folge 12: Hyper-V Survey

Podcast: Play in new window | Download (Duration: 28:28 — 26.1MB)
Subscribe: RSS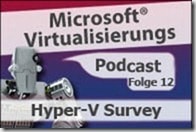 Drei meiner "MVP Kollegen", Aidan Finn (Virtual Machine MVP), Damian Flynn (Virtual Machine MVP) und Hans Vredevoort (Failover Clustering MVP) haben sich zusammen getan und eine Umfrage zum Thema Hyper-V gestartet. Da dieser Survey wichtige Fragen beinhaltet und auch schon die Aufmerksamkeit von Microsoft erregt hat, ist die Teilnahme daran, eine gute Möglichkeit Feedback zu Hyper-V und SystemCenter zu geben. Weiterhin werde ich euch berichten, was sich hinter dem Hyper-V Powerkurs verbirgt. Auch die News, Links, Videos und Veranstaltungen werden nicht zu kurz kommen. Apropos auf zwei dieser Veranstaltungen werde ich selber sprechen (ich bin schon etwas aufgeregt). Also hört mal rein und dabei wünsche ich euch wie immer viel Spaß.
ShowNotes:
Links, News und Videos (ab 1:26)
Hyper-v: Detailed step by step installing RedHat 6.1 VM in expert mode with the new Linux Integration Services 3.1 von Alessandro Cardoso auf seinem Virtualisation & Management Blog
System Center Virtual Machine Manager 2012: VMM erhält ein umfangreiches Upgrade von Paul Schnackenburg auf TechNet
System Center 2012 Deep Dive bei TechNet On
Checklist: Optimizing Performance on Hyper-V auf MSDN
Whitepaper – Planning Hyper-V CSV and Backup von Aidan Finn auf seinem Blog
Five tips for fitting more virtual machines onto a Hyper-V host von Brien Posey auf TechRepublic
How to configure NIC Teaming with HP Proliant and Cisco or Procurve Switch Infrastructure? von Rmazan Can auf seinem Blog
Troubleshooting 'Redirected Access' on a Cluster Shared Volume (CSV) auf Ask the Core Team
Hyper-V und Anti-Virus Software *reloaded* von Michel Lüscher auf Server-Talk.eu
Optimizing the HP P4000 Storage Array for a Microsoft Hyper-V Environment von Patrick Lownds auf HPs Transforming IT Blog
Intel Sandy Bridge und Westmere + Hyper-V Hotfixes von Daniel Melanchthon [MSFT] auf dem German Virtualization Blog
Video und Audio (ab 9:55)
Virtual Machine Servicing Tool (VMST) 3.0 with Gargee Sharma – Part 1 und Part 2
Doug Hazelman on Veeam Backup and Replication Support for Hyper-V auf TrainSignal
The 5 Things You Need to Know When Virtualizing Microsoft Services on Hyper-V von John Savill auf WindowsITPro
Podcast Empfehlung: Windows Weckly with Paul Thurrott (and Mary Jo Foley)
Adam Hall Taking a walk through App Controller auf
Videointerview mit Michel Lüscher – ChalkTalk zu Hyper-V, SystemCenter 2012 und ein bisschen Windows Server "8"
Schwerpunktthema The greate Hyper-V Survey (ab 14:49)
Aidan Finns Blogpost: The Great Big Hyper-V Survey of 2011 und hier geht direkt zur Umfrage
Microsoft Private Cloud Powerkurs (ab 16:57)
Anfang November findet eine Premiere statt: unser ersten Hyper-V Powerkurs. Ich berichte so ein bißchen was da alles drin sein wird.
Termine (ab 20:26)
WindowsITPro Webcast Five Key Factors for Virtualizing Microsoft Services on Hyper-V
System Center User Group NL (SCUG NL) – System Center Summer Night am 31. August in Utrecht/Niederlande
//Build/windows vom 13. September bis 16. Septeber in Anaheim/USA
IT Admin Tech Talk 2011 am 20. und 21. September in Frankfurt/Main
Microsoft Technical Server Summit & Dynamics Airlift vom 21. bis 22. September in München
iX Serminar "Hyper- V sicher und Sauber" am 28.9. in Köln
NetApp TechDemo Microsoft vom am 26. 9. Köln, 27. 9. München, 5.10 Frankfurt und 6. 10. Stuttgart
Veam Webcast Unify Data Protection Across VMware and Hyper-V am 5. Oktober
Deutsche Microsoft Partner Konferenz vom 4. bis 5. Oktober in Hamburg
Treffen der Hyper-V Community am 6. Oktober in Hamburg
The Experts Conferenz Europe TECConf vom 17. bis 19. Oktober in Frankfurt/Main
TechDays 11 Bern am 20. und 21. Oktober 2011 in Bern/Schweiz
E2E 2011 London vom 18. – 20. November in London