Microsoft Virtualisierungs Podcast Folge 36: Windows Azure Pack

Podcast: Play in new window | Download (Duration: 1:11:15 — 98.0MB)
Subscribe: RSS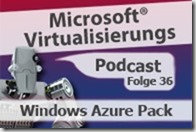 In dieser Episode habe ich Marc van Eijk im Interview. Mark ist ein neuer Windows Azure MVP der sich seit einiger Zeit mit dem Microsoft Azure Pack beschäftigt. Was das ist und warum er so begeistert ist, erfahrt beim zuhören. Vorweg gibt es wie immer viele nützliche Links auf Blogposts, Videos und Audios und hinten raus Termine aus der Microsoft Private Cloud Szene.
Ich wünsche Euch beim Zuhören viele Erkenntnisse und soviel Spaß, wie ich beim Zusammentragen der Infos hatte.
Shownotes:
Links und News (ab 1:06)
Update: Capacity Planner for Hyper-V Replica von Aashish Ramdas  auf dem Microsoft Virtualization Blog
Network Recommendations for a Hyper-V Cluster in Windows Server 2012 von Praveen Vijayaraghavan auf dem Microsoft Virtualization Blog
Hyper-V generation 2 virtual machines – part 1 bis part 10 von Ron Howard auf seinem Blog
Six Common Problems with Failover Clusters von John Marlin auf Windows IT-Pro
Windows Server 2012 Hyper-V Best Practices (In Easy Checklist Form) von Roger Osborne auf Ask PFE Platform
Automation–The New World of Tenant Provisioning with Windows Azure Pack – Part 1, Part 2, Part 3, Part 4 and Part 5 von Charles Joy auf  Building Clouds Blog
Definitive Guide to Hyper-V 2012 R2 Network Architectures von Hans Vredevoort auf Hyper-V.nu
Detailed guides for Windows Server 2012 R2 Private Cloud Storage (using SMB3 File Servers, Cluster Shared Volumes and Storage Spaces) von Jose Barreto auf seinem Blog
Configuring Windows Failover Cluster Networks von S. Jayaprakash  auf Ask the Core Team Blog
Blogserie zum Thema Hyper-V Converged Network von Michael Lüscher auf Servertalk.eu Blog
Free eBooks from MicroSoft Press auf der Microsoft Virtual Academy
Hyper-V over SMB: Set SMB Constrained Delegation via PowerShell von Thomas Maurer auf seinem Blog
Audio und Videos (19:03)
Videoaufzeichnungen des Community Treffens vom 2. Oktober 2013 sind Online
TechNet Radio: To Scale Out or Not to Scale Out…That is the Question mit Dan Stolts und Chris Caldwell auf TechNet Radio
Windows Azure IaaS Deep Dive Jump Start auf der MVA
Windows Server 2012 Storage- und Netzwerk-Virtualisierung auf der MVA
Edge Show 91 – Windows Azure Pack with Windows Server & System Center 2012 R2 mit Symon Perriman, Bradley Bartz  und Nagender Vedula  auf TechNet Edge
SMB 3.0 – Microsofts Storage Protokoll der Zukunft von Carsten Rachfahl auf Channel9
Vorträge von der IT Pro Academy auf der CeBIT 2014
"The Hyper-V Amigos" Episode 1: Who we are von Didier Van Hoye und Carsten Rachfahl
Interview (ab 30:28)
Wie schon angekündigt geht es in dem Interview mit Mark van Eijk primär um das Windows Assure Pack (oder demnächst vieleicht Microsoft Assure Pack). Weiterhin hatte sprechen wir noch über den MVP Award und das ein oder andere. Wer mehr von Mark lesen möchte findet seine Blogposts auf Hyper-V.nu und er twittert undter @_markvaneijk. Viel Spass beim Interview.
Termine (ab 1:02:39)
Microsoft Build Conference 2014 vom 2. bis 4 April in San Francisco
PowerShell Community Konferenz 2014 vom 6. bis 8. Mai in Oberhausen
Hyper-V-Community Treffen am 08. Mai in Stuttgart
Microsoft TechEd 2014 North America am 12. bis 15. Mai in Housten/Texas
Microsoft Synopsis 2014 vom 13. bis 14. Mai in Darmstadt
E2EVC vom 30. Mai bis 1. Juni in Brüssel
it-Administrator Hyper-V-Workshops im Juni und Juli 2014 von Nils Kaczenski am 5. Juni in Nürnberg, am 24. Juni in Essen und am 15. Juli in München
System Center Universe 2014 Europe vom 17. bis 19. September in Basel
Technical Server Summit 2014 vom 15. bis 16. Oktober in Düsseldorf
Microsoft TechNet 2014 Europe am 27. bis 31.Oktober in Barcelona