Podcast: Play in new window | Download (Duration: 1:03:27 — 87.2MB)
Subscribe: iTunes | Android | RSS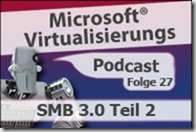 In diesem Podcast sprechen wir im Schwerpunktthema wieder über SMB 3.0 (und es wird nicht der letzte Teil der Serie sein). Die Protokollverbesserungen hatten wir in Teil 1 und im zweiten Teil geht es um "Hyper-V over SMB".
Dann werde ich die Gewinner der Verlosung bekannt geben und wir werden über eine Job-Oferte bei uns sprechen.
Vorweg gibt es wie immer viele nützliche Links auf Blogposts, Videos & Audios und hintenraus wie immer Termine. Ich wünsche Euch beim Zuhören viele Erkenntnisse und soviel Spaß, wie ich beim Zusammentragen der Infos hatte.
Shownotes:
Links und News (ab 1:10)
Microsoft Most Valuable Professional (MVP) – Best Posts of the Week around Windows Server, Exchange, SystemCenter and more – #15 auf Flo's Datacenter Report
How to build a iSCSI Target Cluster on Windows Server 2012 von Thomas Mauerer auf seinem Blog
Dell | Microsoft IT Camp – ein Rückblick von Florian Klaffenbach auf Dell Techcenter Blog
Die Installation eines funktionierenden Failovercluster unter Windows Server 2012 mit nur einer physischen Netzwerkkarte von Jan Kappen auf hyper-v-server.de
Corefig for Windows Server 2012 Core and Hyper-V Server 2012 auf CodePlex
NIC Teaming, Hyper-V switch, QoS and actual performance | part 1 – Theory, part 2 – Preparing the lab, part 3 – Performance, part 4 – Traffic classes von Marc van Eijk auf hyper-v.nu
Using SMB3.0 in your Private Cloud Fabric von Kristian Nese auf seinem Blog
Microsoft Windows Server 2012 Storage Whitepaper
Video und Audio (ab 10:17)
Edge Show 49 – System Center 2012 SP1 Launch mit Symon Perriman und John Allwright (Senior Product Marketing Manager in Windows Server & Management)
Video Hyper-V Talk mit 4 MVPs Virtual Maschine mit Aidan Finn, Didier Van Hoye, Thomas Maurer und Carsten Rachfahl
TechNet Radio: SMB 3.0 Deployment Scenarios mit Jose Baretto und Bob Hunt und dazugehöriger Blogpost Hyper-V over SMB – Sample Configurations
Recommended hotfixes and updates for Windows Server 2012-based Failover Clusters #WS2012 3 comments von Robert Smith auf seinem Blog
System Center Universe 2013 event videos are live! auf myitforum.com
Videocast Hyper-V Features erklärt – SMB Multichannel von Carsten Rachfahl auf hyper-v-server.de
TechNet Radio: Hyper-V over SMB 3.0 Performance Considerations mit Jose Baretto und Bob Hunt und dazugehörigen Blogpost Hyper-V over SMB – Performance considerations von Jose Baretto
Videointerview mit Stefan Köll (MVP CDM) zu System Center 2012 und Videointerview mit Oliver Sommer zu Hyper-V im SMB von Carsten Rachfahl auf hyper-v-server.de
Nordic Infrastructure Conference NICconf 2013 Sessions
Edgeshow 51: Cluster-In-A-Box Revisited mit Rick Claus und Graham Whitely (PM Hybrid Storage Systems) auf channel9
Videocast rund um Hyper-V auf SMB von Carsten Rachfahl
Videocast WS2012 Failovercluster mit SMB Storage vom Carsten Rachfahl
Schwerpunktthema SMB 3.0 Teil 2 (ab 26:26)
Im Teil 2 sprechen wir über "Hyper-V over SMB". Was bedeutet diese neue Möglichkeit eigentlich? ISt Hyper-V over SMB ein Ersatz für Blockstorage oder sogar eine Verbesserung? Nun wer mich kennt sollte die Antwort auf diese Fragen schon wissen?
Updated Links on Windows Server 2012 File Server and SMB 3.0 von Jose Barreto
Gewinnbekanntgabe (ab 40:57)
Natürlich muß ich auch die Gewinner meiner Verlosung aus dem letzten Podcast bekanntgeben.
Zwei Job-Oferte (ab 44:28)
Intresse an einem neuen Job? Vieleicht ist der eine von den zwei was für euch. Kerstin und ich sprechen über was wir anbieten und was Ihr mitbringen solltet.
Termine (ab 51:28)
IT-Camp Windows 8 im Unternehmen am 15.Februar in Berlin und am 20. Februar in Köln
TechDays 2013 Belgien vom 5. bis 7. März in Antwerpen
CeBIT 2013 vom 5. bis 9. März in Hannover
Microsoft Day 2013 am 12. März in Wien mit Community Event in Insbruck und Graz
Hyper-V PowerKurs V2 vom 11. bis 15. März in Hallenberg
PowerShell Community Konferenz 2013 vom 9. bis 11. April in Oberhausen/Ruhrgebiet
Microsoft MMS 2013 vom 8. bis 12. April in Las Vegas
Microsoft Synopsis 2013 vom 10. bis 11. April 2013 in Darmstadt
Hyper-V PowerKurs V2 vom 15. bis 19. April in Hallenberg
Hyper-V PowerKurs V2 vom 13. bis 17. Mai in Hallenberg
E2EVC Konferenz vom 31. Mai bis 2. Juni in Copenhagen
TechEd 2013 North America vom 3. bis 6. Juni in New Orleans/USA
Hyper-V PowerKurs V2 vom 11. bis 15. Juni in Hallenberg
TechED 2013 Europa vom 25. bis 28. Juni in Madrid/Spanien
ice2013 am 24. August in Lingen