Microsoft Virtualisierungs Podcast Folge 31 – LiveMigration in WS2012 R2

Podcast: Play in new window | Download (Duration: 51:25 — 70.7MB)
Subscribe: RSS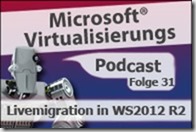 Im heutigen Schwerpunktthema führe ich ein Interview mit meinem MVP Kollegen Didier van Hoye über die Verbesserungen der Livemigration in Windows Server 2012 R2. Weiterhin kündige ich eine Verlosung an, bei der es wieder einen top Preis zu gewinnen gibt.
Vorweg gibt es wie immer viele nützliche Links auf Blogposts, Videos und Audios und hinten raus die Termine aus der Microsoft Private Cloud Szene.
Ich wünsche Euch beim Zuhören viele Erkenntnisse und soviel Spaß, wie ich beim Zusammentragen der Infos hatte.
Shownotes:
Links und News (ab 1:24)
What's New in Failover Clustering in Windows Server 2012 R2 auf TechNet
What is Hyper-V over SMB? von Thomas Maurer auf seinem Blog
Enabling Linux Support on Windows Server 2012 R2 Hyper-V von Ben Armstrong auf dem Microsoft Virtualization Blog
Updated: Windows Server 2012 Hyper-V and Cluster Hotfixes and Updates von Hans Vredevoort auf Hyper-V.nu
Realizing the Full Potential of Hyper-V Network Virtualization von Richard Hicks auf Microsoft Building Clouds Blog
Important Features in Microsoft's Free Hyper-V Server 2012 von Michael Otey auf Windows IT Pro Blog
Hyper-v Replica Certificate Based with your own Root Authority von Robert Smit auf seinem Blog
System Center 2012 R2 VMM Preview – UI Changes Teil 1 Fabric, Teil 2: VMs and Services und Teil 3: Library, Jobs & Settings von Daniel Neumann auf Daniel's Tech Blog
Microsoft Hyper-V Resources im VMWare Directory Blog
Video und Audio (ab 10:36)
Edge Show 67 – Networking with System Center 2012 R2 Virtual Machine Manager mit Symon Perriman and Greg Cusanza
Videoserie von Jan Kappen zu den Neuerungen in Windows Server 2012 R2 Hyper-V auf Hyper-V-Server.de
Videokurs des Hyper-V IT Camps mit Bernhard Frank und Carsten Rachfahl auf Bernhard Frank's Blog
Dell Solution Webcast Folge 8: Hyper-V in Windows Server 2012 R2 auf YouTube
System Center Universe DACH ein Interview mit Marcel Zehner und Thomas Maurer von Carsten Rachfahl
Videointerview mit Mike Resseler über Hyper-V Replica und einen Bären von Carsten Rachfahl
Interview mit Jan Kappen zum "Microsoft Hyper-V und System Center" Buch von Carsten Rachfahl
Schwerpunktthema "Live Migration in Windows Server 2012 R2 Hyper-V" (ab 18:22)
Im Schwerpunkthema habe ich einen MVP Freund und Kollegen aus Belgien im Gespräch – Didier Van Hoye. Didier hat in letzter Zeit sich intensiv mit der Livemigration in Hyper-V beschäftigt und wir plaudern ein wenig über seine letzten Erkenntnisse in Windows Server 2012 Hyper-V aber auch über die neuen Möglichkeiten in Windows Server 2012 R2 Hyper-V.
Live Migration over NIC Team in Switch Independent Mode With Dynamic Load Balancing & TCP/IP in Windows Server 2012 R2
Preliminary Results With Live Migration Over RDMA Speed & Useful Number Of NICs
An Early Look At Live Migration Over TCP/IP & Multichannel In Windows Server 2012 R2 Preview
Configuring Performance Options for Live Migration In Windows Server 2012 R2 Preview
Preissausschreiben (ab 37:52)
Wer unseren Blog verfolgt der hat vieleicht war genommen das ich meinen dritten MVP Award für Virtual Machine verliehen bekommen habe. Das und andere Dinge sind der Grund das ich mal wieder ein Preisausschreiben veranstalte. Erster Preis wird die Teilnahme an unsrem überarbeiteten Hyper-V PowerKurs V3 sein aber auch die andren Preise sind nicht zu verachten. Also hört mal rein was ich verlose und wie ihr teilnehmen könnt.
Termine (ab 44:47)
Webcast – Hyper-V for VMware Experts Part 2 am 30. Juli um 19 Uhr Online
Hyper-V PowerKurs V3 vom 19. bis 23. August in Hallenberg
ice2013 am 24. August in Lingen
heise Verlag Workshop: Hyper-V mit Windows Server 2012 am 5. + 6. September in Hamburg, am 5. + 6. November in Köln und am 5. +6. Dezember in München mit Nils Kaczenki
Hyper-V PowerKurs V3 vom 9. bis 13. September in Hallenberg
System Center Universe 2013 DACH vom 16. bis 17. September in Bern
Microsoft Server Summit vom 25. bis 27. September in Berlin
Hyper-V Community am 2. Oktober in Bad Homburg
E2EVC vom 1. bis 3 November in Rom