Microsoft Virtualisierungs Podcast Folge 28: SMB 3.0 Teil 3

Podcast: Play in new window | Download (Duration: 1:00:34 — 83.2MB)
Subscribe: RSS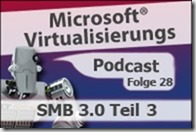 Heute geht es ein weiteres Mal um SMB 3.0.
Ich möchte das Thema mit den neuen Möglichkeiten des Dateiservers, speziell des Scale-out Dateiservers, danach aber erst einmal abschließen. Daneben werde ich ein klein bisschen über die MVP Summit in Redmond und die CeBIT in Hannover plaudern. Vorweg gibt es wie immer viele nützliche Links auf Blogposts, Videos, Audios und hinten raus wie immer Termine. Ich wünsche Euch beim Zuhören viele Erkenntnisse und soviel Spaß, wie ich beim Zusammentragen der Infos hatte.
Shownotes: Links und News (ab 1:28)
New Hyper-V Books Available on Amazon von Leandro Carvalho auf seinem Blog
CodePlex Projekt: Create Hyper-V Server USB Memory
How to participate in MMS 2013 even if you aren't going von Rod Trent auf myitforum.com
Virtual Networking in Hyper-V 2012 von Mitch Garvis auf seinem Blog
Run Non-Microsoft Virtual Machines on Hyper-V von Leandro Carvalho auf TechNet Wiki
New eBook – Building a Hyper-V Cluster for Under $2000 von Eric Siron auf Altaro Blog
Wiki for Windows Server 2012 Cluster Hotfixes von Hans Vredevoort auf Hyper-V.nu
Become a Virtualization Expert with 20 + Days of Server Virtualization #VirtExpert @ITProGuru (Part 0 of 20+) von  Dan Stolts auf IT Pro Guro Blog
Shared Nothing Live Migration Leverages SMB 3.0 Under the Hood von Didier Van Hoye auf seinem Blog WorkingHardinIT
Virtualization & Cloud Podcast Directory von Simon Seagrave  auf seinem Blog TechHead
Microsoft's Windows Server 2012 Evaluation Guide
Video und Audio (ab 15:49)
TechDays 2012 Basel – Windows Server 2012 Storage mit Markus Erlacher und Philipp Witschi auf TechNet
Edge Show 54 – Failover Cluster Migration to Windows Server 2012 mit Symon Perriman und Rob Hindman auf TechNet Edge
Windows Server 2012 Hyper-V Networking Evolved von Didier Van Hoye  und Windows Server 2012 Virtualization: Notes from the Field mit Didier Van Hoye und Kurt Roggen beide auf Technet Video
TechNet Radio: ITProGuru vs. Hyper-V Live (Part 1) und (Part 2) von Dan Stolts und Rob McShinsky auf TechNet Radio
TechNet Radio: Windows Server 2012 File Server Tips and Tricks mit Bob Hunt und Jose Barreto auf TechNet Radio
Videointerview mit Leandro Carvalho über sein Hyper-V Buch mit Carsten Rachfahl
Videocast: Hyper-V Feature erklährt: Shared Nothing Live Migration
CeBIT TechNet Kino Vortrag: Windows Server 2012 Dateiserver Reloaded mit Carsten Rachfahl
Videointerview mit Ben Armstrong über Hyper-V mit Carsten Rachfahl
Schwerpunktthema SMB 3.0 Teil 3 (ab 26:25)
Im Teil 3 sprechen wir über den neuen "Scale-out Dateiserver" oder auf deutsch "Dateiserver mit horizontaler  Skalierung für Anwendungsdaten". Was ist das? Diese neue Clusterrolle ermöglicht es einen hochverfügbaren, aktiven Dateiserver für Hyper-V virtuelle Computer zu bauen bei dem alle Knoten, denn es können mehr als zwei sein, aktiv den gleichen Share anbieten.
Updated Links on Windows  Server 2012 File Server and SMB 3.0 von Jose Barreto
Schwerpunktthema MVPSummit und CeBIT 2013 aus meiner Sicht (ab 43:15)
Mitte Februar war ich mit Kerstin dem mir angetrauten MVP für Office 365 zum zweiten mal in Redmond auf dem MVP Summit. Ich schildere ein wenig meine Einrücke vom Summit und von der zwei Wochen später stattfindenden CeBIT 2013.
Himmlische IT Podcast Folge 26: Office 365 MVP Summit
Termine (ab 50:23)
PowerShell Community Konferenz 2013 vom 9. bis 11. April in Oberhausen/Ruhrgebiet
Microsoft MMS 2013 vom 8. bis 12. April in Las Vegas
Microsoft Synopsis 2013 vom 10. bis 11. April 2013 in Darmstadt
Hyper-V PowerKurs V2 vom 15. bis 19. April in Hallenberg
The next Hyper-V.nu event am 16. April in Baarn/Niederlande
Windows Azure Conf Event am 23. April
Treffen der Private Cloud User Group am 25. April in Hannover
Hyper-V PowerKurs V2 vom 13. bis 17. Mai in Hallenberg
E2EVC Konferenz vom 31. Mai bis 2. Juni in Kopenhagen
TechEd 2013 North America vom 3. bis 6. Juni in New Orleans/USA
Hyper-V PowerKurs V2 vom 11. bis 15. Juni in Hallenberg
Hyper-V Community am 13. Juni in Berlin
TechED 2013 Europa vom 25. bis 28. Juni in Madrid/Spanien
Build 2013 vom 26. bis 28. Juni in in San Francisco
ice2013 am 24. August in Lingen