Microsoft Virtualisierungs Podcast Folge 15 – Bauen einer Private Cloud

Podcast: Play in new window | Download (Duration: 42:23 — 38.9MB)
Subscribe: RSS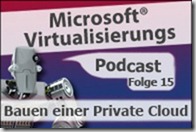 Das Thema Private Cloud ist momentan in aller Munde, oder kommt es mir nur so vor? Ich bin gerade mit den Microsoft TechDay Private Cloud genau dazu in der Republik unterwegs. Aber was sind die Bestandteile dieses Gebildes und wie baut man so etwas? Genau dazu führe ich ein Interview mit Michel Lüscher von Server-Talk.eu Blog aus der Schweiz. Wer meinen Blog liest, der hat vielleicht war genommen, dass ich Michel schon mal vor der Kamera hatte (mein Videointerview mit ihm findet ihr hier).
Ich wünsche euch beim Zuhören viel Geduld und soviel Spaß, wie ich beim Zusammentragen der Infos hatte.
Shownotes:
Links, News und Videos (ab 1:00)
PXE Server in System Center Virtual Machine Manager 2012 von Michel Lüscher
"Accelerating Your IT Pro Career with Private Cloud" Event Slides von Jon Baker's BritBLog
TNWiki Article Spotlight–Reference Architecture for Private Cloud von Thomas Shindler
Ramp Up Guide: Windows 2008 R2 Failover Clustering auf dem Microsoft Premium Support UK Blog
Microsoft Private Cloud WhitePaper von David Chappell
Microsoft System Center Virtual Machine Manager Self-Service Portal 2.0 SP1 with documentation von James van der Berg
Video and Audio (ab 6:43)
WebCast Mit der richtigen Backup-Strategie Aufwand & Risiken der Virtualisierung senken mit Ralf Barth und Michael Korp
Podcast Windows Server 8 with Paul Thurrott auf dem Inside Podcast Network
Consumerisation of IT Video and Whitepaper auf dem Microsoft Premium Support UK Blog
Videointerview with Hans Vredevoort about Hyper-V V3 and Storage auf Hyper-V-Server.de
Videointerview with Aidan Finn about Designing Hyper-V CSV and Backup auf Hyper-V-Server.de
Interview (ab 11:11)
Hier hört ihr mich und Michel Lüscher über das Thema "Bauen einer Private Cloud" philosophieren.
Active Directory Integration Pack for System Center 2012 – Orchestrator
System Center Cloud Service Process Pack Beta
Termine (ab 34:47)
Microsoft System Center 2012 Virtual Summit Online Event am 30. November
Exam 70-659: Windows Server 2008 R2, Server Virtualization Jump Start am 1. Dezember mit Simon Perriman and Philip Helsel
Microsoft TechDay "Von der Servervirtualiserung bis zur Private Cloud" am 1.12. München mit Liveübertragung im Internet
TechNet Seminar: Private Cloud – Infrastruktur mit Microsoft  am 10. Januar in München und am 12. Januar in Hamburg
NIC (Nordic Infrastructure Conference) vom 13. bis 14. Januar in Oslo / Norwegen
Hyper-V Powerkurs vom 9. bis 13. Januar in Hallenberg
Hyper-V community event am 19. Januar in Amsterdam /Niderlande
TechDays Belgium vom 14. bis 16. Februar in Braine l'Alleud (Eigenbrakel) / Belgien
CeBIT 2012 vom 6. bis 10. März in Hanover
Microsoft Management Summit 2012 vom 16. bis 20. April in Las Vegas /USA
The Experts Conference 2012 US vom 29. April bis 2. Mai in San Diego / USA
E2E Virtualisation Conference vom 25. bis 27. Mai in Wien / Österreich