Microsoft Virtualisierungs Podcast Folge 40: Storage Spaces extended

Podcast: Play in new window | Download (Duration: 1:06:02 — 90.7MB)
Subscribe: RSS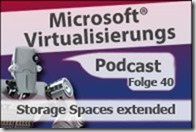 Wir beschäftigen uns momentan in vielen Projekten mit Storage Spaces. Dabei sammeln wir eine Menge Best Practices. Ich möchte in diesem Podcast im Schwerpunktthema diese mit euch teilen. Außerdem  gebe ich drei Gewinner des Preisausschreibens des letzten Podcasts bekannt. Vorweg gibt es wie immer viele nützliche Links auf Blogposts, Videos und Audios und hinten raus die Termine aus der Microsoft Private Cloud Szene.
Ich wünsche euch beim Zuhören viele Erkenntnisse und soviel Spaß, wie ich beim Zusammentragen der Infos hatte.
Shownotes:
Links und News (ab 1:03)
Blog Serie über die Windows Azure Pack VM Role Part 1 Introduction, Part 2 Concept und Part 3 Resource Definition  vom Mark van Eijk auf dem Microsoft Building Clouds Blog
Windows Azure Pack for Windows Server 2012 R2 Guide WhitePaper von James van den Berg auf TechNet Galery
Network Virtualization and Cloud Computing Microsoft Press eBook von Nader Benmessaoud, CJ Williams und Uma Mahesh Mudigonda
Storage Spaces Survival Guide (Links to presentations, articles, blogs, tools) von Jose Barreto auf seinem Blog
Online Resizing Of Hyper-V Virtual Disks Is Possible in Windows 2012 R2 von Didier Van Hoye auf seinem Blog
Hyper-V Configuration Toolkit von Mark Scholmann auf Hyper-V.nu
Audio und Videos (14:08)
Windows Azure Pack: Infrastructure as a Service Jump Start auf Microsoft Virtual Academy
The Hyper-V Amigo Showcast Episode 5 – Generation 2 VMs auf Hyper-V-Amigos.net
Edge Show 119 – New Management Pack for Virtual Machine Manager with System Center Operations Manager mit Symon Perriman und Charlie Satterfield auch TechNet Edge
Edge Show 112 – New Widgets & Dashboards with Operations Manager in System Center 2012 R2 mit Symon Perriman und Daniel Savage auch TechNet Edge
Run as Radio Show #386: Software Defined Storage with Aidan Finn
"Die Namenlose News Show" mit Heike Ritter auf Microsoft Channel9
Storage Spaces extended (ab 20:17)
In Schwerpunkt teile ich mit euch unsere Bestpractices die wir mit Storage Spaces Implementierungen für uns in vielen Projekten gefunden haben. Erwähnte Links sind:
Bekanntgabe der Gewinner der Verlosung (ab 52:43)
In Folge 39 des Podcasts hatte ich aus gegebenen Anlass eine Verlosung von einigen Preisen. Man konnte folgende Dinge gewinnen: eine kostenlose Teilname am Hyper-V PowerKurs, dreimal das "Microsoft Hyper-V und System Center – Das Administratorenhandbuch" Buch und einemal eine Microsoft Tasche. Hier gebe ich die 5 Gewinner bekannt.
Termine (ab 55:37)
Microsoft IT Camp: Hybrid IT mit Microsoft Azure & System Center 2012 R2 am 30. September in Frankfurt am Main
Microsoft IT Camp: Infrastruktur-Modernisierung mit Windows Server & System Center 2012 R2, Microsoft Azure am 1. Oktober in Frankfurt am Main
Veeam One vom 6. bis 8. Oktober in Las Vegas / USA
Microsoft IT Camp: Infrastruktur-Modernisierung mit Windows Server & System Center 2012 R2, Microsoft Azure am 7. Oktober in München
Microsoft IT Camp: Hybrid IT mit Microsoft Azure & System Center 2012 R2 am 8. Oktober in München
Technical Server Summit 2014 vom 15. bis 17. Oktober in Düsseldorf
E2EVC 2014 vom 23. bis 26. Oktober in Barcelona / Spanien
Microsoft TechNet 2014 Europe am 27. bis 31.Oktober in Barcelona / Spanien
Technical Summit 2014 am 11. bis 13. November in Berlin