Microsoft Virtualisierungs Podcast Folge 34: Veranstaltungen

Podcast: Play in new window | Download (Duration: 55:42 — 76.7MB)
Subscribe: RSS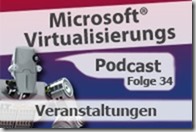 Man ist momentan viel los! Hyper-V erlebt gerade einen Absoluten Hype (oder kommt es nur mir so vor?). Seit dem letzten Podcast ist wirklich viel passiert. Die TechNet Conference hat zum ersten Mal stattgefunden. Ich habe 6 "Tech@Nights Hyper-V" und mit Bernhard Frank gemeinsam 9 IT-Camps durchgeführt (im Schwerpunktthema hört Ihr mehr dazu). Vorweg gibt es wie immer viele nützliche Links auf Blogposts, Videos und Audios und hinten raus Termine aus der Microsoft Private Cloud Szene.
Ich wünsche Euch beim Zuhören viele Erkenntnisse und soviel Spaß, wie ich beim Zusammentragen der Infos hatte.
Shownotes:
Links und News (ab 1:07)
Windows Server 2012 R2 and Windows Server 2012 TechNet Library Documentation auf TechNet
To scale out or not to scale out, that is the question von Ned Pyle auf dem File Cabinet Blog
Guided Hands-on Lab: Virtual Networking 101 with System Center 2012 R2 Virtual Machine Manager (VMM) von Keith Mayer auf seinem Blog
Hyper-v Server, Copying the content of Pass-Through disk to VHDX von Aman Sahota auf InfraTalks Blog
MVA Kurs Server Virtualization with Windows Server Hyper-V and System Center mit freier Prüfungsvoucher
Free ebook: Introducing Windows Server 2012 R2 und Free ebook: Introducing Microsoft System Center 2012 R2 von Autor Mitch Tulloch auf Microsoft Press
Windows Server 2012 R2 Hyper-V Component Architecture Poster and Hyper-V Mini-Posters
Video und Audio (ab 9:58)
Edge Show 80 – Linux Integration with System Center 2012 R2 mit Symon Perriman und Michael Kelley auf TechNet Edge
Edge Show 81 – What's New in Windows Server 2012 R2 Failover Clustering mit Symon Perriman und Elden Christensen auf TechNet Edge
TechNet Radio: (Part 1) Virtualization: Did You Know… mit Kevin Remde und Varun Chhabra, Part 2 und Part 3 mit Kevin Remde und Jeff Wollsey und  auf TechNet Radio
TechNet Radio: What's New in SMB for Windows Server 2012 R2 mit Dan Stolts abd Jose Barreto  auf TechNet Radio
Videointerview mit VirtualPCGuy über seine drei top WS2012 Hyper-V R2 Feature mit Ben Armstrong
MVA Jumpstart Aufzeichnung: Windows Server2012 R2 Storage Jump Start: New Choices
Meine Vorträge von der TechNet Conference 2013 in Berlin von Carsten Rachfahl auf hyper-v-server.de
Alle TechNet Conference 2013 Videos auf TechNet Video
Schhwerunkthema meine Veranstaltungen (ab 28:45)
Man was war nicht alles nach dem letzten Podcast los: die TechNet Conference 2013 in Berlin,  eine Woche MVP Summit 2013 in Redmond, neun Tages IT-Camps zu WS2012 R2 Hyper-V und CloudOS und sieben Tech@Night. Ich möchte hier ein wenig über die Erfahrungen mit diesen Veranstaltungen sprechen.
Termine (ab 44:53)
Hyper-V PowerKurs V3 vom 20. bis 24. Jannuar in Hallenberg
Treffen der Hyper-V Community am 30. Januar 2014 bei der GAD in Münster
System Center Universe 2014 am 30. Januar 2014 in Hoston/Texas
CeBIT 2014 am 10 bis 14. Marz in Hannover
2014 Global Windows Azure Bootcamp am 29. März 2014
Microsoft Build Conference 2014 vom 2. bis 4 April in San Francisco
E2EVC vom 30. Mai bis 1. Juni in Brüssel
TechEd 2014 North America am 12. bis 15. Mai in Hosten/Texas