Microsoft Virtualisierungs Podcast Folge 25: PowerShell 3.0

Podcast: Play in new window | Download (Duration: 44:22 — 61.0MB)
Subscribe: RSS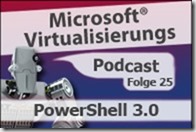 In dieser Folge dreht es sich im Schwerpunktthema um PowerShell. PowerShell V3, welche mit Windows Server 2012 kommt, hat viele Neuerungen und Vorteile gegenüber der Vorgängerversion. Ich werde einige von diesen besprechen.
Zusätzlich habe ich ein Interview mit Jeff Wouters auf der E2EVC Konferenz in Hamburg gehalten. Außerdem findet Ihr in dieser Folge wie immer viele Links auf Posts und Videos und am Ende meine Veranstaltungstipps.
Ich wünsche Euch beim Zuhören viele Erkenntnisse und soviel Spaß, wie ich beim Zusammentragen der Infos hatte.
Shownotes:
Links und News (ab 1:10)
Windows Server 2012 Hyper-V Cookbook Now Available von Leandro Carvalho auf seinem Blog
Die Hyper-V Integration Services aktualisieren von Michel Lüscher auf server-talk.eu
Creating an Active/Active SQL Cluster using Hyper-V: Part1 Virtualized Storage und Part2 the Clustered Instances von Mohamend M Malek auf Team blog of NCS
VMware (finally) admits that its costs are higher than Microsoft's von Amy Barzdukas auf dem Server & Cloud Blog
Tuning Failover Cluster Network Thresholds von Elden Christensen auf  Cluster and High-Availability Blog
Windows Server 2012 Our Favorite Things auf Matt Hester's WebLog
Live Migration Security Failures, Kerberos Live Migration Authentication & Constrained Delegation von Aidan Finn auf seinem Blog
Windows Server 2012 Deduplication Results In A Small Environment von Didier Van Hoje auf Working Hard In IT
Windows Server 2012 File Server Tip: Use multiple subnets when deploying SMB Multichannel in a cluster von Jose Baretto auf seinem Blog
Video und Audio (ab 15:29)
PowerScripting Podcast von Jonathan Walz & Hal Rottenberg
Edge Show 41 – Hyper-V & Live Migration in Windows Server 2012 mit Jeff Woolsey Principal Program Manager Lead for Windows Server Hyper-V
TechNet Radio: Virtualization and Cloud Experts Café – Microsoft Virtual Machine Converter and Hyper-V Virtual Switch Overview
TechNet Radio: Virtualization and Cloud Experts Café – Why Hyper-V Matters and How it Can Work for You
Videointerview mit Aidan Finn über Windows Server 2012 Livemigration und Hyper-V Replica
Videointerview mit Hans Vredevoort über Netzwerk Teaming und Converged Networking in Windows Server 2012
Videointerview mit Didier Van Hoye (MVP Virtual Machine) über Storage Verbesserungen in Windows Server 2012
Schwerpunktthema und Interview mit Jeff Wouters über PowerShell 3.0 (ab 22:11)
Auf der E2EVC Konferenz in Hamburg hatte ich die Gelegenheit Jeff Woutes zum Thema PowerShell zu interviewen. Wir sprechen über seine drei liebsten PowerShell Features welche PowerShell Workflows, Dynamic Language Runtime und die PowerShell ISE sind.
Termine (ab 38:18)
IT-Camp Private Cloud am 28. November in Berlin, am 4. Dezember in Bad Homburg, am 7. Dezember in Unterschleißheim, am 11. Dezember in Hamburg, am 13. Dezember in Walldorf, am 17. Dezember in Köln und am 19. Dezember in Unterschleißheim
Hyper-V PowerKurs V2 vom 10. bis 14. Dezember in Hallenberg
Hyper-V PowerKurs V2 vom 14. bis 18. Januar in Hallenberg
3WW15 Microsoft Partner Technical Communities – Sei dabei – in Mannheim zu Hyper-V v.3 am 18. Januar in Mannheim
Hyper-V PowerKurs V2 vom 4. bis 8. Februar in Hallenberg
CeBIT 2013 vom 5. bis 9. März in Hannover
Hyper-V PowerKurs V2 vom 11. bis 15. März in Hallenberg
Microsoft MMS 2013 vom 8. bis 12. April in Las Vegas
E2EVC Konferenz vom 31. Mai bis 2.Juni in Copenhagen