Microsoft Virtualisierungs Podcast Folge 23: Hyper-V Server 2012

Podcast: Play in new window | Download (Duration: 45:14 — 62.2MB)
Subscribe: RSS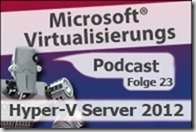 In dieser Folge ist mein Schwerpunktthema der Hyper-V Server 2012. Ein absolut cooles Produkt mit dem man viel mehr machen kann, als viele vermuten. Weiterhin gebe ich die Gewinner der letzten Verlosung bekannt und werde wieder etwas Neues verlosen. Und natürlich habe ich Euch wie immer viele Links auf Posts und Videos sowie Veranstaltungstipps zusammengetragen.
Ich wünsche Euch beim Zuhören viele Erkenntnisse und soviel Spaß, wie ich beim Zusammentragen der Infos hatte.
Shownotes:
Links und News (ab 0:57)
How To: Migrate HyperV VM nach Azure VM  auf Patrick Heyde's Technet Blog
My Top Features in Windows Server 2012 von Nathan Lasnoski auf seinem Blog
Large collection of Free Microsoft eBooks for you, including: SharePoint, Visual Studio, Windows Phone, Windows 8, Office 365, Office 2010, SQL Server 2012, Azure, and more. von Eric Lingman auf dem  SMS&P Partner Community Blog
Server 2012 Windows Network Virtualization Part 1, Part 2, Part 3, Part 4, Part 5 und Part 6 von Brian Ehlert auf seinem Blog
Microsoft Multipath I/O (MPIO) Users Guide for Windows Server 2012 von Bruce Langworthyhttp://blogs.technet.com/b/virtualization/archive/2012/08/20/how-to-use-resource-metering-with-powershell.aspx
Introduction to Resource Metering von Lalithra Fernando auf dem Microsoft Virtualization Blog
Updated Links on Windows Server 2012 File Server and SMB 3.0 von Jose Baretto auf seinem Blog
Video und Audio (ab 10:07)
EdgeShow 30 – Multi-Server Management with Erin Chapple auf Technet Edge
TechNet Radio: Cert Talk: New Microsoft Certifications for Windows Server 2012
System Center 2012 Multi-Hypervisor Management for VMware & Citrix auf Channel9
Webcast Serie Demo-Szenarien zu IaaS mit Hyper-V und System Center (Teil 1) – Szenarien 1-4, Teil 2 Szenarien 5-6, Teil 3 Szenarien 7-11 und Teil 4 – Szenarien 11-14 von Bernhard Frank auf TechNet Webcasts
Videointerview mit Thomas Maurer zu Hyper-V 2012 auf Hyper-V-Server.de
Videointerview mit Michel Lüscher und Michael Epprecht auf Hyper-V-Server.de
Videocast zu Veeam Backup und Replication 6.1 auf Hyper-V auf Hyper-V-Server.de
Schwerpunktthema Hyper-V Server 2012 (ab 17:53)
Den Hyper-V Server gibt es seit Microsoft Hyper-V in 2008 auf den Markt gebracht hat. Er ist einen kostenlose Variante des Windows Server, mit dem man Virtualisierung und Failover-Cluster betreiben kann, und zwar nur das. Passend zum Windows Server 2012 bring Microsoft jetzt auch den Hyper-V Server 2012 heraus und der hat es in sich.
Erwähnte Links:
Bekanntgabe der Gewinner der letzten Verlosung (ab 28:20)
Wer hat die drei Preise vom Letzten Podcast gewonnen? Na das erfahrt ihr hier. Zur Erinnerung, es gab:
kostenlose Teilnahme am Hyper-V Powerkurs in KW 37
Windows 7 Ultimate NFR Version
Ausdruck des Hyper-V Poster
zu gewinnen. Was mich allerdings irritiert hat: ich fünf Anläufe gebraucht um den Hauptgewinn an den Mann zu bringen.
Termine (ab 31:10)
Veeam Webcast Hyper-V: Lösung der operativen Herausforderungen am 29. August von 10 bis 11 Uhr
Microsoft Windows Server 2012 Launch Online Event am 4. September
Microsoft Partner Briefing Windows 8, Windows Server 2012, das neue Office am 4. September in Hannover, am 7. September in Neuss, am 10. September in Frankfurt und am 18. September in München
ice:2012 am 8. September in Lingen/Ems
Microsoft Windows Server 2012 Veranstaltung am 6. September in Offenbach/Frankfurt am Main, am 11. September in Köln, am 13. September in München und am 24. September in Hamburg
IT-Camp Windows Server 2012 am 7. September in Frankfurt, am 12. September in Köln, am 14. September in München, am 20. September in Stuttgart und am 27. September und am 28. September in Berlin
Katapult.06 – Windows Server 2012 – Built for the Future, READY NOW! am 25. September in Wien/Österreich
The Experts Conference Europe 2012 vom 22. bis 24. Oktober in Bacelona
Microsoft Technical Server Summit vom 22. bis 24. Oktober in Leipzig
geekmania 2012 am 26. Oktober in Zürich
//build/ 2012 von 30. Oktober bis 2. November in Redmond USA
E2E Virtualisation Conference vom 2. bis 4. November in Hamburg
Hyper-V PowerKurs V2 vom 12. bis 16. November in Hallenberg
Hyper-V PowerKurs V2 vom 10. bis 14. Dezember in Hallenberg