Microsoft Virtualisierungs Podcast Folge 21: Zwischenspiel

Podcast: Play in new window | Download (Duration: 56:30 — 52.2MB)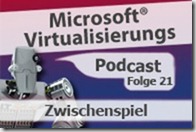 In dieser Episode führe ich mal wieder ein Interview. Mein Gesprächspartner ist Stefan Köll. In Ihm schlagen zwei Herzen: einerseits ist er MVP für "Cloud and Datacenter Management" und anderseits ist er der Entwickler von Royal TS. Was beides ist erfahrt Ihr in unserem Interview. Zusätzlich sprechen wir über die E2EVC die vor kurzem in Wien stattgefunden hat. Und natürlich habe ich euch wie immer viele Links auf Posts und Videos und Veranstaltungstipps zusammengetragen.
Ich wünsche euch beim Zuhören viele Erkenntnisse und soviel Spaß, wie ich beim Zusammentragen der Infos hatte.
Shownotes:
Links und News (ab 0:55)
VSS Crash-Consistent vs. Application-Consistent VSS Backups Teil 1 und Teil 2 auf Altaro Blog
Let's Build a Cloud… With PowerShell! – Part 2: Managing Virtual Machines von Yigal Edery auf Private Cloud Architecture Blog
Reporting in System Center 2012 Virtual Machine Manager (Part 1) von J.C. Hornbeck auf dem Microsoft System Center Virtual Machine Manager Blog
Shrinking a virtual hard disk in Windows 8 von Ben Amstrong auf Virtual PC Guy's Blog
Ubuntu 12.04 under Hyper-V on Windows 8 von Ben Amstrong auf Virtual PC Guy's Blog
Starting with Cluster-Aware Updating: Self-Updating von Mallikarjun Chadalapaka auf The Storage Team at Microsoft – File Cabinet Blog
Hyper-V 2012 – Hey I Just Met You And This Is Crazy voN Thomas Mauerer auf seinem Blog
Some Different Converged Fabric Architectures For Windows Server 2012 Hyper-V von Aidan Finn auf seinem Blog
Video und Audio (ab 12:19)
Edge Show 26 – Monitoring Applications for the Private Cloud with System Center 2012 mit Symon Periman and Adam Hall auf Technet Edge
Private Cloud Demo Extravaganza Demo Video Serie mit Symon Perriman
Windows Server 2008 R2 Hyper-V Performance Analysis: How You Can Get the Most out of Hyper-V [NZ 2010: SVR313] mit Ben Amstrong
Top New Features in Hyper-V 3.0 and Windows Server 2012 – The Experts Conference| VKernel.TV No. 31 mit Hans Vredevoort und Anil Desai zu Gast bei Mathias Sundling
TechDay Private Cloud Szenarien Videos auf Hyper-V-Server.de
Interview mit Stefan Köll (MVP CDM) (ab 17:18)
Wi schon im Intro angekündigt spreche ich mit Stefan über verschieden Dinge.
seine Erfahrung als Microsoft MVP System Center Cloud and Datacenter Management
Die E2EVC Konferenz in Wien
Royal TS
Von seinem Produkt Royal TS stellt Stefan auch drei Lizenzen für unsere Podcast Hörer bereit. Also wer dieses Produkt gerne hätte sollte mal in den Podcast reinhören, da erfahrt ihr wie ihr an der Verlosung teilnehmen könnt.
Termine (ab 45:31)
Upcoming Webcast Series: Bare Metal to Private Cloud von Travis Wright
IT-Administrator Training »Windows Server Best Practice  am 19. Juni in Frankfurt
Windows Server 2012 Community Roadshow am 19. Juni in Bad Homburg und am 22. Juni in Unterschleißheim und am 25. Juni in Karlsruhe
Veranstaltungsreihe Best of Microsoft 2012 am 4. Juni in Köln, am 6. Juni in Hamburg, am 11. Juni in Stuttgart und am 13. Juni in München
TechEd 2012 Northamerica vom 11. bis 14. Juni in Orlando / USA
Windows Server 2012: Preparing for the Datacenter Evolution" JumpStart Kurs vom 21. Juni bis 22. Juni
TechED 2012 Europe vom 25. bis 29. Juni in Amsterdam / Niederlande
Webinar Community Geschenke zur Lösung Ihrer Herausforderungen am 28. Juni um 13:00 bis 14:00
Avnet Webinar HP P4000 mit Hyper-V in Windows 2012 am 28. Juni um 14:30 bis 15:30
Hyper-V Community Treffen am 10. Juli in Düsseldorf
Hyper-V PowerKurs vom 2. bis 6. Juli in Hallenberg
Hyper-V PowerKurs vom 6. bis 10. August in Hallenberg
ice:2012 am 8. September in Lingen/Ems
E2E Virtualisation Conference vom 2. bis 4. November in Hamburg