Microsoft Virtualisierugs Podcast Folge 8: Die Hyper-V Community

Podcast: Play in new window | Download (Duration: 38:09 — 35.0MB)
Subscribe: RSS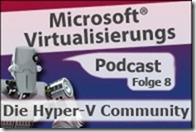 Wer unseren Blog verfolgt, hat es vielleicht schon gelesen: Wir haben die deusche Hyper-V Community gegründet. In diesem Podcast könnt Ihr unter anderem ein Interview mit den "Gründern" hören. Udo, Benedict und ich erzählen so ein bisschen worum es bei der Community geht und was euch auf dem ersten Treffen erwartet. Dann gibts natürlich wieder viele Links, News und Termine. Und ich verlose wiedereinmal etwas. Also hört doch mal rein in die achte Folge. Es würde mich freuen.
Shownotes:
News und Links (ab Minute 1:17 )
CentOS now have official support as guest VM in Hyper-V von Alessandro Cardoso auf seinem Blog  Virtualisation & Management Blog
Virtualize SQL Server with Hyper-V and System Center auf dem Microsoft SQL Server Team Blog
Microsoft Integration Pack Opalis for System Center Virtual Machine Manager von James van den Berg auf seinem Blog
Best Practices for Virtualizing Exchange Server 2010 with Windows Server® 2008 R2 Hyper V™
Hyper-V Perfomance Analysing with PAL von Maarten Wijsman auf Hyper-V.nu
Diskless server boot using the Microsoft iSCSI Software Target and a regular network card auf Jose Barretos's Blog
Dynamic Optimization and Power Optimization in SCVMM 2012 auf dem Microsoft Blog  System Center Virtual Machine Manager
Definitive Guide to Hyper-V Networking Optimizations von Hans Vredevoort auf Hyper-V.nu
Overview of entry level iSCSI solutions for Hyper-V auf Marcel van den Berg Blog UP2V
Adding Citrix XenServer 5.6 SP2 into SCVMM 2012 Beta von Lai Yoong Seng auf seinem Blog Hyper-V System Center
Hyper-V NIC Teaming, CSV, Snapshots, DCs: (Virtualization FAQ 1): Presenting at VIR471-INT von Nathan Lasnokis auf dem Blog concurrency.com
Videos zur Virtualisierung (ab Minute 15:10 )
TechEd 2011 NA Videos zur Virtualisierung
The Hands On Lab private cloud at TechEd
System Center 2012 – Was kommt neues? Teil 1 und System Center 2012 – Was kommt neues? Teil 2
Private Cloud Teil 1 und Private Cloud Teil 2
Anand Kamat highlights the new features in System Center Data Protection Manager (DPM) 2012
Failover Clustering & Hyper-V: Planning your Highly-Available Virtualization Environment
Failover Clustering & Hyper-V: Multi-Site Disaster Recovery
Videointerview mit Michael Korp zum Thema "Microsoft Privat Cloud"
Videointerview mit Hans Vredevoort zum Thema "Hyper-V und vieles Mehr"
Interview (ab Minute 22:19 )
Die deutsche Hyper-V Community ist gegründert und unser erstes Event steht vor der Tür. In diesem Interview sprechen Udo Lorenz, Benedict Berger und ich über das was wir so vor haben.
Verlosung (ab Minute 28:30 )
Es gibt mal wieder was zu gewinnen. Hört mal rein was ihr tun müsst um was zu gewinnen.
Termine (ab Minute 31:18 )
Webinar zu Windows Server 2008 R2 – Virtualisierung und Systemmanagement am 31.5.um 16:30
"BriForum U.S." vom 19. – 21. 7. in Chicago
\\ice:2011 – Intelligent Communities for Europe am 20.8. in Lingen / Ems
iX Serminar "Hyper-V sicher und Sauber" am 28.9. in Köln
PubForum 2011 E2E Conferent in London vom 18. – 20. November in London