Videointerview mit Jose Barreto und Senthil Rajaram über Storage QoS in Windows Server 2016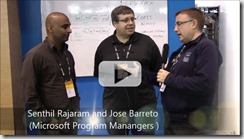 Diesmal hatte ich gleich zwei Microsoft Program Manager vor der Kamera: Senthil Rajarm (Program Manager in the Hyper-V Group) und meinen alten Bekannten Jose Barreto (Microsoft Program Mananger in the High Availibility and Storage Group).
Die beiden sprechen im Video über ein neues Feature aus Windows Server 2016 – Storage QoS. Mit Storage QoS ist es möglich die Storage Bandbreite von Virtuellen Maschinen auf dem Storage zu managen. Es sind Minimum Garantien aber auch Maximum Begrenzungen möglich und das ganze Policy basiert und dynamisch! Super Feature, aber schaut selbst rein was Senthil und Jose dazu zu berichten haben.
Für mich war es ein super Spaß die Beiden zu interviewen und ich habe einen Menge gelernt; so hoffentlich Ihr auch.
Links zu Storage QoS: