Videointerview mit Rob Hindman über Rolling Cluster Upgrade in Windows Server 2016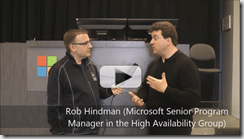 Am letzten Tag der Microsoft Ignite Konferenz im Mai 2015 in Chicago sah ich eine Session mit Rob Hindman und Ben Armstrong über "Rolling Cluster Upgrade" in Windows Server 2016 (Upgrading Your Private Cloud to Windows Server 2012 R2 and Beyond!). Im Anschluss an den Vortrag habe ich die Chance beim Schopfe gepackt und Rob Hindman über das Feature interviewt.
Leider machte mir der Sound Schwierigkeiten, das Interview ist hoffentlich trotzdem interessant.