"The Hyper-V Amigos" Episode 1: Who we are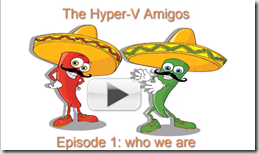 My Friend and Hyper-V MVP college Didier Van Hoye (also known as @WorkingHardInIT) and I (known as @hypervserver) had a creasy idea; doing a Showcase and here comes the challenge: In English. So we did our first Episode of "The Hyper-V Amigos" Showcase where we talk about "how we are" and "how we "stranded in IT".
I hope you have the same fun watching the video than we had recording it.
P.S.: The Intro is spoken by another MVP, Kerstin Rachfahl. Unfortunately she is not a Hyper-V MVP, but you can't have everything (and I love here anyway).