Review Hyper-V Videokurs "Hyper-V Training von Trainsignal"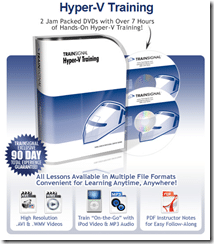 Als ich mich im Juni 2009 auf die MCTS Prüfung 70-652 vorbereitet habe, führte ich eine Recherche nach verfügbaren Videokursen durch (ich lerne sehr gerne visuell). Leider war damals nichts verfügbar. Bei einer erneuten Recherche fand ich dann vor kurzem das Hyper-V Training von Trainsignal. Diese habe ich kurzentschlossen bei Trainsignal geordert und möchte hier meine Erfahrungen damit darstellen.
Vorweg: Der Kurs ist in einem gut verständlichem Englisch. Der Trainer Benjamin "Coach" Culbertson, den ich auch schon aus anderen Kursen kenne ist kompetent und gut zu verstehen.
In den 12 Videos werden alle wichtigen Themengebiete der Microsoft Servervirtualisierung mit Hyper-V behandelt (Auszug weiter unten). Das der Kurs Hyper-V R1 behandelt stört nicht weiter da der Trainer in den letzten drei Videos noch auf die Neuheiten in Hyper-V R2 eingeht und sich auch noch an der Livemigration versucht.
Auszug aus dem Inhalt
Video 1 – Welcome to Hyper-V
About Your Instructor
What's Covered in this Course
Hardware used in the course (so you can play along at home)
Video 2 – Requirements and Installation
Virtualizatuin 101
When Virtualisation is a Good Idea
What Hyper-V Is
Hyper-V's Many Flavors
Hardware Requirements
VM's Licensing
Globomantic's Scenario
Getting Hyper-V Installed
Video 3 – Creating a Virtual Machine
Integration Services
Creating a New Virtual Machine (VM)
Installing OS on VM
Installing Integration Services
Using VM Toolbar
Processor Stuff
RAM Stuff
Disk Stuff
Adding Processor, RAM, & SCSI Drive to Our VM
Creating a Snapshot
Video 4 – Virtual Networks
What Do You Need for a Virtual Network?
The 3 Kinds of Virtual Networks
Nifty Options for Your Internal VN
How Many Networks Can You Have?
Creating a Private Network
Creating a Virtual Machine
Changing Network Connection on VM
Installing Integration Services
Checking Network Connectivity
Can Our Machines Talk to Each Other?
Renaming Our Virtual Machines
Video 5 – Virtual Disk and Snapshot Tricks
Types of Virtual Disks
Differencing Disks
Creating VM Using Differencing Disk
Deleting Differencing Disk
What are Snapshots?
Using Snapshots
Video 6 – Using Windows Deployment Services (WDS) To Deploy Virtual Machines
WDS in 3 Easy Steps
Creating a WDS VM Machine
Configuring WDS
Creating Capture Image
Utilizing WDS to Install Server 2008
Capturing OS
Re-configuring Our Old Web Server
Moving Image to Hyper-V Server
Adding an Image to Installation Folder
Reconstituting Web Server as Hyper-V Machine
Finishing Up New Web Server Configuration
Video 7 – Making Your Virtual Machines Portable
Why This is a Good Idea?
Exporting VM
Importing VM
Video 8 – Providing Access to Hyper-V
Hyper-V Access From Vista
Remote Access for Hyper-V
Using HVRemote
Changes Made by HVRemote Script
Firewall Settings
Checking Our Web Developer Account Access
Restricting Access with HVRemote
Additional Thoughts on Hyper-V Security
Video 9 – Building a Complete AD Test Environment in Hyper-V
Deploying Virtual Domain Controller
Deploying Virtual File Server
Setting Up Domain Controller and File Server
Changing Administrative Logon Credentials
Joining File Server to the New Domain
Installing DHCP
Joining DWS Server to V-Globomantics Network
Creating Virtual Web Server
Creating a Virtual Client Machine
Completing Web Server and Vista Installations
Testing and Troubleshooting the Connectivity
Creating WebDeveloper Account
Video 10 – Server 2008 R2 Upgrade
Server 2008 R2 Enhancements
Upgrading Server 2008 to R2
Video 11 – New Features for Hyper-V in Server 2008 R2
Dynamic Storage – Easy Swapping of VHD's on SCSI
Migration Options
Core Parking
Video 12 – Failover Clustering
Primer on Failover Clustering
Science Time – Building Failover Cluster
Setting Up for Hyper-V Clustering
Attaching iSCSI Storage
Validating Configuration
Creating a Cluster
Configuring Cluster Quorum Settings
Creating Highly Available Virtual Machine
Live and Quick Migration
Mein Fazit
Die Videos sind ein sehr guter Einblick in Microsofts Hyper-V und dessen Benutzung. Wer allerdings eine Vorbereitung für die Microsoft Virtualisierungsprüfung erwartet wird enttäuscht werden. Das ist auch nicht der Anspruch des Videokurses. Wer allerdings einen Einblick in Hyper-V erwartet ist bei diesem Videos genau richtig. Ich meine das der Kurs sein Preis von $299 jederzeit wert ist.
Link zu dem Kurs bei www.trainsignal.com: http://www.trainsignal.com/Hyper-V-Training-P73.aspx