Microsoft Virtualisierungs Podcast Folge 35: ODX, RDMA und CSV

Podcast: Play in new window | Download (Duration: 1:00:48 — 83.6MB)
Subscribe: RSS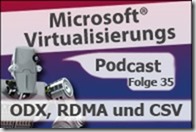 In diesen Podcast mache ich mal wieder ein Interview mit einem anderen MVP: Didier Van Hoye auch bekannt als WorkingHardnIT. Wir unterhalten uns über Features wie ODX, CSV, VMQ, vRSS und SMB Direct. Vorweg gibt es wie immer viele nützliche Links auf Blogposts, Videos und Audios und hinten raus Termine aus der Microsoft Private Cloud Szene.
Ich wünsche Euch beim Zuhören viele Erkenntnisse und soviel Spaß, wie ich beim Zusammentragen der Infos hatte.
Shownotes:
Links und News (ab 1:13)
Get the scripts for Update Rollup 1 for System Center 2012 R2 VMM vom Brian Ehlert auf seinem Blog
Windows Server 2012 R2 Hyper-V Component Architecture Poster and Hyper-V Mini-Posters
Improve Performance of a File Server with SMB Direct auf Technet Library mit Dan Stolz und Jose Baretto auf TechNet Radio
Manage SOFS Cluster and File Shares from Virtual Machine Manager von Thomas Mauerer auf seinem Blog
Storage Spaces Physical Disk Validation Script von Brian Matthey auf Technet Gallery
Troubleshooting File Server Networking Issues in Windows Server 2012 R2 von Jose Barreto auf seinem Blog
SCVMM 2012 SP1/R2 Config Backup and Restore (v1.3) von auf Yusuf Ozturk seinem Blog
A PowerShell Based Hyper-V Health Report von Jeffery Hicks auf dem Altaro Blog
FreeBSD and Microsoft Windows Server Hyper-V support
Audio und Videos (ab 11:39)
TechNet Radio – Networking Configurations for Hyper-V over SMB in Windows Server 2012 R2
Videointerview with 10 MVPs in a Ferris wheel
Edge Show 87 Linux Integration Services for Hyper-V mir Rick Claus und Abhishek Gupta auf TechNet Edge
Edge Show 89 – vRSS and Networking mit Gabriel Silva mir Rick Claus und auf TechNet Edge
Videointerview mit Taylor Brown über seine drei top WS2012 Hyper-V R2 Feature mit Taylor Brown
MVA Kurs Windows Server 2012 R2 Virtualization
MVA Kurs Hyper-V für VMware Profis von Jan Kappen
Interview (ab 19:04)
Im Interview spreche ich mit meinem Freund Didier Van Hoye aus Belgien. Didier ist Hyper-V MVP und blogt inter http://WorkingHardInIT.Wordpress.com und twittert unter @WorkinghardinIT. Wir unterhalten uns über Features wie ODX, RSS, DVMQ, vRSS und SMB Direct. Dider stellt die Teorie auf, das all diese Features am Ende des Tages Cores des Hosts entlasten so das wir mehr Power für die Virtualisierung haben. Interessant? Ich finde ja.
Im Interview erwähnter Artikel: Live Migration over SMB Direct leaves more CPU cycles for Virtual RSS (vRSS) in Windows Server 2012 R2
Termine (ab 46:16)
Microsoft IT Camp: Cloud OS mit Windows Server 2012 R2 und System Center 2012 R2 am 13. Februar in München, am 19. Februar in Köln, am 26. Februar in Stuttgart, am 5. März in Dresden, am 20. März in Berlin und am 26. März in Frankfurt
Microsoft IT Camp: Windows 8.1 im Unternehmen am 12. Februar in München, am 18. Februar in Köln, am 25. Februar in Stuttgart, am 4. März in Dresden, am 19. März in Berlin und am 25. März in Frankfurt
MVA Liveevent: Virtualizing Your Data Center with Hyper-V and System Center am 19. Februar Online
9. Treffen der System Center Service Manager User Group am 4. März in Berlin
CeBIT 2014 am 10 bis 14. Marz in Hannover
TraiCen Virtualization Day 2014 am 18. März in Langenfeld
Treffen der Building Cloud Community 24. März in Frankfurt
Hyper-V-Seminar mit Nils Kacenski am 25. und 26. März in Hannover
2014 Global Windows Azure Bootcamp am 29. März 2014
Microsoft Build Conference 2014 vom 2. bis 4 April in San Francisco
Microsfot TechEd 2014 North America am 12. bis 15. Mai in Hosten/Texas
E2EVC vom 30. Mai bis 1. Juni in Brüssel
System Center Universe 2014 Europe vom 17. bis 19. September in Basel
Microsoft TechNet 2014 Europe am 27. bis 31.Oktober in Barcelona