Microsoft Virtualisierungs Podcast Folge 32: TechNet Conference 2013

Podcast: Play in new window | Download (Duration: 58:04 — 79.8MB)
Subscribe: RSS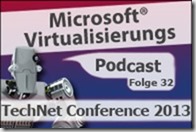 Heute geht es im Schwerpunktthema um die TechNet Conference 2013 in Berlin, ein Event das laut Aidan Finn: "Looking at the list of names speaking, you're simply not going to find a Microsoft technology event to match this in Europe". Bernard Frank und ich sprechen über das Event und warum man unbedingt hingehen sollte. Weiterhin gebe ich die Gewinner der Verlosung aus dem letzten Podcast bekannt.
Vorweg gibt es wie immer viele nützliche Links auf Blogposts, Videos, Audios und hinten raus die Termine aus der Microsoft Private Cloud Szene.
Ich wünsche Euch beim Zuhören viele Erkenntnisse und soviel Spaß, wie ich beim Zusammentragen der Infos hatte.
Shownotes:
Links und News (ab 1:21)
What's new in SMB PowerShell in Windows Server 2012 R2 von Jose Baretto auf seinem Blog
Keeping VM Configurations in Sync with Hyper-V Replica von Ben Armstrong auf seinem Virtualization Blog
The Effects Of WS2012 R2 Storage Spaces Write-Back Cache von Aidan Finn auf seinem Blog
How to Configure a Clustered Storage Space in Windows Server 2012 von Subhasish Bhattacharya auf dem Clustering and High-Availability Blog
Windows Server 2012 R2 Preview NVGRE Gateway mit NAT in SC2012 R2 VMM Preview von Daniel Neumann auf Daniels's Tech Blog
Step-by-step for Storage Spaces Tiering in Windows Server 2012 R2 von Jose Barretto auf seinem Blog
Free ebook: Introducing Windows Server 2012 R2 Preview Release von Mitch Turloch
Video und Audio (ab 9:57)
Edge Show 70 – Storage with System Center 2012 R2 Virtual Machine Manager mit Symon Perrimann und Hector Linares auf TechNet Edge
TechNet Radio: (Part 2) What's New in 2012 R2 – Transforming the Datacenter mit Brat Anderson und Kevin Remde auf TechNet Radio
Podcast Hyper-V vs. vSphere with Mitch Garvis auf RunAs Radio
Windows Server 2012 R2 Unmap, ODX On A Dell Compellent SAN Demo von Didier Van Hoye aus seinem Blog
History of Hyper-V features up to Windows Server 2012 R2 von John Savill auf seinem Blog
Schwerpunktthema "Microsoft TechNet Conference 2013 in Berlin" (ab 15:53)
Diese Jahr veranstaltet Microsoft zwischen dem 12. und 13. November in Berlin zum ersten mal die TechNet Conference 2013. Dies ist ein Event auf dem über 15 MVPs zu den Microsoft Themen: Windows 8.1, Windows Server 2012 R2, System Center 2012 R2, Windows Intune, Windows Azure, SQL Server 2014 und  Office 365 sprechen werden. Ich plaudere mit Bernhard Frank über das Event in dem er für den Cloud OS Tracks verantwortlich ist.
Preissausschreiben (ab 49:51)
In diesem Segment gebe ich die Gewinner der Preise des Preisausschreibens des letzten Podcast bekannt. Herzlichen Glückwunsch.
Termine (ab 51:12)
System Center Universe 2013 DACH vom 16. bis 17. September in Bern
Webcast Hyper-V Storage Efficiencies & Optimizations in Windows Server 2012 R2 am 24. September um 14 Uhr mit Didier Van Hoye
Windows Server2012 R2 Storage Jump Start: New Choices am 24.September live Online
Microsoft Server Summit vom 25. bis 27. September in Berlin
Hyper-V Community am 2. Oktober in Neu Isenburg
Hyper-V PowerKurs V3 vom 7. bis 11. Oktober in Hallenberg
8. Treffen der System Management User Group am 10. Oktober in Neuss
geekmania 2013 switzerland am 25. Oktober in Zürich
E2EVC vom 1. bis 3 November in Rom
Technet Conference 2013 vom 12. bis 13. November in Berlin