Podcast: Play in new window | Download (Duration: 1:05:56 — 90.6MB)
Subscribe: iTunes | Android | RSS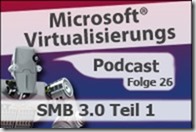 Windows Server 2012 bringt in Bezug auf die Virtualisierung viele, viele neue Features mit sich. Ob es nun die Shared Nothing Live Migration, Hyper-V Replica, NIC Teaming oder Live Snapshot Merge, um nur einige der großartigen Neuigkeiten zu nennen, ist – alle sind großartige Verbesserung die Windows Server 2012 Hyper-V zu einem Knüller machen. Ein Feature: SMB 3.0. Eigentlich kann man bei SMB 3.0 gar nicht von Feature reden, da es sich hierbei um die neue Version des Dateizugriffsprotokolls zwischen einem SMB Client und einem SMB Server handelt. Hört selbst warum ich über die Neuerungen in SMB 3.0 so begeistert bin. Außerdem findet Ihr in dieser Folge wie immer auch viele Links auf Posts und Videos und am Ende die Veranstaltungstipps.
Ich wünsche euch beim Zuhören viele Erkenntnisse und soviel Spaß, wie ich beim Zusammentragen der Infos hatte.
Shownotes:
Links und News (ab 1:29)
Microsoft Windows 8 Pro – Das Handbuch von Martina Grom, Toni Pohl und Tobias Weltner
Microsoft Whitepaper: Using Windows 8 Client Hyper-V im Microsoft DownloadCenter
Windows Server 2012 Hyper-V: VM Resource Metering via PowerShell von Thomas Maurer auf thomasmaurer.ch
Microsoft's Christmas present: SMI-S Storage Provider for iSCSI Target Server von Hans Vredevoort auf hyper-v.nu
Hyper-V Network Virtualization (WNV/NVGRE): Simply Amazing von Ivan Pepelnjak auf ipspace
Hyper-V Protection with Data Protection Manager 2012 SP1 von Hans Vredevoort auf hyper-v.nu von Hans Vredevoort auf hyper-v.nu
Windows Azure und IaaS – Schritt 1 Anmeldung, Schritt 2 Das Portal, Schritt 3 Kostenübersicht, Schritt 4 VM Vorschau aktivieren, Schritt 5 Neue VM anlegen, Schritt 6 Verbinden, Schritt 7 VHD anfügen, Schritt 8 PowerShell Cmdlets installieren, Schritt 9 PowerShell QuickVM von Martina Grom auf technet.at
Microsoft Publishes WS2012 QoS Guidance vom Aidan Finn auf seinem Blog
Video und Audio (ab 15:30)
Microsoft Windows Server 2012 Virtual Event vom 29. November
Microsoft Windows Server 2012 Upgrade Jumpstart
Flo's Datacenter Microsoft Masterminds:
Edge Show 44 – Data Protection Manager (DPM) Enhancements in System Center 2012 SP1 mit Symon Perriman und Prabu Rambadran
TechNet Radio: Virtualization and Cloud Experts Café – Why Hyper-V Replica Matters mir Harold Wong und Jeff Wousley
The appeal of Windows Server 2012 – the professional's view mit Aidan Finn
Video2brain Einstieg in Hyper-V von Carsten Rachfahl
Schwerpunktthema SMB 3.0 Teil 1 (ab 23:44)
Im Teil 1 spreche ich über Verbesserungen im eigentlichen Netzwerkprotokoll. Ich schneide SMB Multichannel, SMB Direct, SMB Encription und Trasparentes Failover an.
Mein Jahr 2012 und und ein Gewinnspiel (ab 44:19)
Das Jahr 2012 war für mich ein fantastisches Jahr. Ich werde über meine Highlights reden und als Dankeschön wieder ein Gewinnspiel mit tollen Preisen aufsetzen.
Termine (ab 56:56)
IT Camp – Windows Server 2012 und Hybrid Cloud am 9. Januar in Wien
Hyper-V Community Treffen am 10. Januar bei Dell in Frankfurt
Hyper-V PowerKurs V2 vom 14. bis 18. Januar in Hallenberg
VIRTu Alley Online Symposium am 15. und 16. Januar
3WW15 Microsoft Partner Technical Communities – Sei dabei – in Mannheim zu Hyper-V v.3 am 18. Januar in Mannheim
IT Camp: Windows Server 2012 (in Zusammenarbeit mit Dell) am 23. Januar in Halle
IT Camp – Windows Server 2012 und Hybrid Cloud am 30. Januar in Wien
Hyper-V PowerKurs V2 vom 4. bis 8. Februar in Hallenberg
TechDays 2013 Belgien vom 5. bis 7. März in Antwerpen
CeBIT 2013 vom 5. bis 9. März in Hannover
Hyper-V PowerKurs V2 vom 11. bis 15. März in Hallenberg
Microsoft MMS 2013 vom 8. bis 12. April in Las Vegas
E2EVC Konferenz vom 31. Mai bis 2.Juni in Copenhagen