Microsoft Virtualisierungs Podcast Folge 24: Interview mit einem Private Cloud Evangelisten und einem MVP Virtual Machine

Podcast: Play in new window | Download (Duration: 49:48 — 68.5MB)
Subscribe: RSS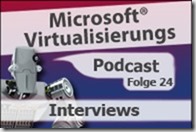 In dieser Folge habe ich direkt zwei Interviews: Zum Einen spreche ich mit Bernhard Frank über die Microsoft Windows Server 2012 IT-Camps die gerade in sechs deutschen Städten gelaufen sind und zum Anderen habe ich den taufrischen und glücklichen MVP für Virtual Machine Thomas Maurer am Mikrofon.
Zusätzlich habe ich in der Folge wieder viele Links auf Posts und Videos und Veranstaltungstipps für Euch zusammengestellt. Ich wünsche Euch beim Zuhören viele Erkenntnisse und soviel Spaß, wie ich beim Zusammentragen der Infos hatte.
Shownotes: Links und News (ab 1:49)
Microsoft Windows Server 2012 Launch Online Event
Great Big Hyper-V Survey of 2012 von Hans Vredevoort, Aidan Finn und Damian Flynn
freies eBook: Windows 8 and Windows Server 2012 Compatibility Cookbook
freies eBook: Introducing Windows Server 2012 RTM edition
Hyper-V 3.0: Measure und NetworkACL von Markus Bäker auf seinem Blog
How to Convert VHD virtual drives to VHDX with Windows 2012 Hyper-V Manager and System Center 2012 Virtual Machine Manager SP1 von Larry Rayl auf seinem Blog
Whitepaper: Competitive Advantages of Windows Server 2012 Hyper-V over VMware vSphere 5.1 von Microsoft
Windows Server 2012 Hyper-V over SMB Explained von Jung Chou auf seinem Blog
Introduction of iSCSI Target in Windows Server 2012 von Jane Yan auf dem The Storage Team at Microsoft – File Cabinet Blog
FreeBSD on Server 2012 Hyper-V vom Brian Ehler auf seinem Blog
Video und Audio (ab 13:49)
Webcast Techdata Microsoft Windows Server 2012 & Hyper-V
Hyper-V  Architecture Demonstraton Video von Ben Amstrong auf Youtube
Edge Show 36 – High-Availability & Clustering enhancement in Windows Server 2012 with Elden Christensen auf Technet Edge
TechNet Radio Community Corner: What's New in Hyper-V for Windows Server 2012
Windows Azure Virtual Machines and Virtual Networks – TechEd Australia Recording
TechNet Radio: Windows Server 2012 Hyper-V over SMB mit Jose Barreto
TechNet Radio: Windows Server 2012 – How to Scale-Out a File Server using Hyper-V mit Jose Barreto
TechNet Radio: Hyper-V over SMB: Step-by-Step Installation using PowerShell mit Jose Baretto
Interview mit Bernhard Frank Microsoft Private Cloud Evangelist zu den Microsoft IT-Camps (ab 20:04)
Im September fand weltweit der Lauch von Windows Server 2012 statt. In vielen Ländern wurde dieses Ereignis von Microsoft Hands-On Labs, den sogenannten IT-Camps, begleitet. Ich hatte das Vergnügen mit einigen Microsoft Evangelisten diese in sechs Stätten bundesweit durchzuführen. In diesem Interview spreche ich mit Bernhard Frank mit dem ich die meisten IT-Camps gemacht habe. Hört mal rein was so los war.
Interview mit Thomas Maurer MVP Virtual Machine (ab 28:50)
Bis zum 1. Oktober war ich der einzige deutschsprachige Microsoft MVP für Virtual Machine. Das hat sich jetzt geändert. Ich habe den frisch gebackenen MVP Thomas Maurer aus der schönen Schweiz interviewt und Ihr könnt hier hören wie er sich mit dem neuen Titel fühlt.
Termine (ab 39:14)
The Experts Conference Europe 2012 vom 22. bis 24. Oktober in Bacelona mit Verlosung einer Karte
Microsoft Technical Server Summit vom 22. bis 24. Oktober in Leipzig
geekmania 2012 am 26. Oktober in Zürich
Veeam Webcast Veeam Backup & Replication 6.5: noch mehr Wege zum WOW! am 15. Oktober von 10. bis 11 Uhr mit Mario Kurz
Veeam Webcast Top 5 Gründe – Backup von Win 2012 Hyper-V mit Veeam am 29. Oktober von 10 bis 11 Uhr
//build/ 2012 von 30. Oktober bis 2. November in Redmond USA
E2E Virtualisation Conference vom 2. bis 4. November in Hamburg
Hyper-V PowerKurs V2 vom 12. bis 16. November in Hallenberg
Windows Server 2012 launch en demodag verplaatst naar 15 november 2012 bei inovativ in Amstelveen
IT-Pro TechDay Schweiz am 20. November in Basel
Hyper-V PowerKurs V2 vom 10. bis 14. Dezember in Hallenberg