Microsoft Virtualisierungs Podcast Folge 22: Windows Azure Spring Release

Podcast: Play in new window | Download (Duration: 49:06 — 44.9MB)
Subscribe: RSS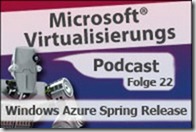 Diese Episode handelt von dem Windows Azure Spring Release. Am 8. Juni fand das "Meet Windows Azure" Liveevent statt auf dem Microsoft einigen super interessante Möglichkeiten mit Windows Azure präsentiert hat. Ich stelle diese im Schwerpunktthema vor. Außerdem habe ich zum zweiten mal den MVP Award für Virtual Machine bekommen. Ich spreche ein bisschen über den Award, wie es mir am 1. Juli ging und verlose auch drei Preise als Danke schön für den Award. Dann hat uns Stefan Köll drei Royal TS Lizenzen freundlicherweise zum Verlosen zur Verfügung gestellt und die bringe ich in dieser Folge an den "Mann" . Und natürlich habe ich euch wie immer viele Links auf Posts und Videos und Veranstaltungstipps zusammengetragen.
Ich wünsche euch beim Zuhören viele Erkenntnisse und soviel Spaß, wie ich beim Zusammentragen der Infos hatte.
Shownotes:
Links und News (ab 1:21)
Windows Server 2012 Editions auf Microsoft Cloud und Server Platform Blog
Windows Server 2012 final release timing auf Microsoft Cloud und Server Platform Blog und Upcoming Windows Milestones Shared with Partners at WPC auf Windows Team Blog

Windows Server® 2012 Hyper-V Network Virtualization Survival Guide auf TechNet
System Center VMM 2012 SP1 CTP2: What's new von Alessandro Cardoso auf Virtualisation & Management Blog
Hyper-V vs. VMware vSphere – Networking von Thomas Maurer auf seinem Blog
Windows Server 2012 E-Book by Mitch Tulloch
Erstellen einer neuen virtuellen Machine in Microsoft Azure auf dem Office365 User Group Blog
Hyper-V Integration Services 3.3 released von Michel Lüscher auf ServerTalk.eu
Video und Audio (ab 12:05)
Edge Show 28 – Behind the Jeff Woolsey Keynote at TechEd mit David Tesar and RicksterCDN auf Technet Edge
Windows Server 2012 Jump Start Videos Published! Spread the Word! von Frank Gartland auf Born to Learn Blog
Mein Vortag Mit Windows Server 2012 zur Cloud-optimierten IT von der TechDay Best of Microsoft 2012 Roadshow
TechNet Radio: Taste of Premier – How to Enable Hyper-V on Windows 8 Release Preview mit LexThomas and Rob Hefner auf TechNet Radio
Videointerview mit Benny Tritsch zu RDS in Windows Server 2012
Videointerview mit Heike Ritter über den Windows Azure Spring Release
Schwerpunktthema der Windows Azure Spring Release (ab 17:43)
"Hybrid Cloud" – Neue Windows Azure Services angekündigt von Heike Ritter auf ihrem TechNet Blog
Windows Azure Spring Release: Trainingskit und Videovorträge zum kostenlosen Download von Rebecca Schickel auf TechNet Cloud Conversation Blog
Vortag von Heike Ritter und Holger Sirtl Windows Azure – Cloud-Plattform für Ihre Software von der TechDay Best of Microsoft 2012 Roadshow
Vorstellung der Neuerungen in Windows Azure auf Katapult.tv
Scott Guthrie Vortrag Meet the New Windows Azure von TechEd Europe
Marc Russinovich Vortag Windows Azure Virtual Machines and Virtual Networks von der TechEd Europe
Marc Russinovich Vortag Windows Azure Internals von der TechEd Europe
MVP again! mit Verlosung (ab 29:50)
Man was bin ich happy! Ich habe am 1. Juli zum zweiten mal die Auszeichnung Microsoft Most Valuable Professional für Virtual Machine erhalten. Ich plaudere ein wenig darüber und werden auch wieder eine Verlosung zur Feier des Tages durchführen. Es gibt wieder drei coole Preise zu gewinnen:
kostenlose Teilnahme am Hyper-V Powerkurs in KW 37
Windows 7 Ultimate NFR Version
Ausdruck des Hyper-V Poster
VAusserdem hat im letzten Podcast Stefan Köll drei Lizenzen seinem Produkt Royal TS zur Verlosung gestellt. Die Verlosung werde ich dürchführen und die Gewinner bekannt geben.
Termine (ab 38:50)
Hyper-V Community Treffen am 10. Juli in Düsseldorf
Hyper-V PowerKurs vom 6. bis 10. August in Hallenberg
ice:2012 am 8. September in Lingen/Ems
Microsoft Windows Server 2012 Veranstaltung am 6. September in Offenbach/Frankfurt am Main, am 11. September in Köln, am 13. September in München und am 24. September in Hamburg
The Experts Conference Europe 2012 vom 22. bis 24. Oktober in Bacelona
Microsoft Technical Server Summit vom 22. bis 24. Oktober in Leipzig
geekmania 2012 am 26. Oktober in Zürich
E2E Virtualisation Conference vom 2. bis 4. November in Hamburg