Microsoft Virtualisierungs Podcast Folge 19: Windows Server 8 Beta und MVPSummit 2012

Podcast: Play in new window | Download (Duration: 50:13 — 46.1MB)
Subscribe: RSS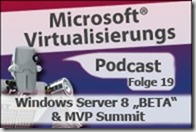 Man was ist seit dem letzten Podcast schon wieder alles passiert! Wir waren auf dem MVPSummit 2012 in Redmond, Windows Server "8" Beta ist raus und die CeBIT hat stattgefunden. Deswegen hat dieser Podcast zwei Schwerpunkte: den MVPSummit und Windows Server "8″ Beta. Ich erzähle wie es in Redmond war und was es neues rund um Hyper-V gibt. Zusätzlich habe ich wie immer viele Links auf Posts und Videos und Veranstaltungstipps für euch gesammelt.
Ich wünsche euch beim Zuhören viele Erkenntnisse und soviel Spaß, wie ich beim Zusammentragen der Infos hatte.
Shownotes:
Links und News (ab 1:10)
New Features and Differences between Windows Server 8 with Hyper-V, Hyper-V Server 8 and Hyper-V Client von Leandro Carvalho auf bettertogether.org.au
Windows 8 Keyboard Shortcuts von Rob Margel
HVBackup Projekt von Alessandro Pilotti auf codeplex
Virtuelle Computer mit Hyper-V in Windows 8 erstellen von Franz auf Dr. Windows
How To Boot From VHD with Windows 8 Consumer Preview von Hans Vredevoort auf Hyper-v.nu
System Center 2012 CTP for Windows Server "8" Beta support now available von Ben Amstrong auf seinem Blog
Cloud Datacenter Network Architecture in the Windows Server "8" era von yigal auf Private Cloud Architecture Blog
Setup Windows Server 8 Hyper-V Cluster von Thomas Maurer auf seinem Blog
Windows PowerShell Support for Windows Server "8" Beta auf TechNet
Langzeit-Performanceanalyse von Hyper-V Hosts und grafische Auswertung mit PAL von Jan Kappen auf hyper-v-server.de
Video and Audio (ab 11:15)
Edge Show 16 – Windows Server 8 VDI von Adam Carter auf Technet Edge
Inside Podcast Network | Inside Central 17 – Notes from the field, Hyper-V Performance Testing
Hyper-V Cmdlets in Windows Server 8 Demo von Eric Bahna auf TechNet Edge
Everything you wanted to know about SR-IOV in Hyper-V Part 6 von John Howard
Creating a Virtual Machine in Windows Server 8 "beta" with Hyper-V von Mitch Garvis auf seinem Blog
Veeam Community Podcast Episode 61 Hyper-V R3, Let's talk about it
Videocast: Wie messe ich die Performance meines Hyper-V Hosts? auf hyper-v-server.de
Schwerpunktpunktthema MVPSummit 2012  (ab 16:22)
Ich hatte es ja schon angekündigt: Kerstin und ich sind nach Redmond zum MVPSummit 2012 gefahren. Das war absolut Klasse und ich würde sagen sicherlich das beeindruckenste Ereignis, was ich bisher beruflich erlebt habe. Was mich so fasziniert hat hört ihr hier.
Hier findet Ihr die Artikel die in diesem Bereich des Podcasts erwähnt worden sind:
Didier Van Hoyes Blog Post über unseren Besuch bei der Bill und Melinda Gates Foundation: Our Visit To The Bill & Melinda Gates Foundation
Kerstins Artikel zu unserem MVP Summit Aufenthalt: Unsere erste MVP Summit in Redmond und mein Artikel zum MVPSummit: MVPSummit 2012, man was war das Klasse
Schwerpunktpunktthema Windows Server "8" Beta (ab 28:46)
Der Windows Server "8" Beta ist seit dem 1. März verfügbar. Viele viele Neuerungen wird Windows Server "8", oder wie er dann auch immer heißen wird, für die Virtualisierung mit Hyper-V bringen. In diesem ersten Ausflug in diese Features gehe ich auf die sogenannten SMB Features wie Hyper-V Replica, Live Storage Migration und Hyper-V auf Windows Server 8 Shares ein.
Ausserdem erwähne ich auch noch meine Folien http://www.hyper-v-server.de/news/meine-cebit-und-techday-hyper-v-vortrge/
Überigens, es gibt wieder ein Poster zu Hyper-V: Windows Server "8" Beta Hyper-V Component Architecture Poster
Termine (ab 40:42)
Online Event Microsoft Jump Start – Creating and Managing a Private Cloud with System Center 2012 am 3. bis 4. April
Exam 70-659: Windows Server 2008 R2, Server Virtualization Jump Start am 12. April mit Simon Perriman and Philip Helsel
Microsoft Management Summit 2012 vom 16. bis 20. April in Las Vegas /USA
The Experts Conference 2012 US vom 29. April bis 2. Mai in San Diego / USA
System Management Summit am 9. und und angeschlossenes IT Camp Private Cloud am 10. Mai im Raum Frankfurt
IT-Administrator Training »Windows Server Best Practice am 15. Mai in Hamburg und am 19. Juni in Frankfurt
Hyper-V PowerKurs vom 21. bis 25. Mai in Hallenberg
E2E Virtualisation Conference vom 25. bis 27. Mai in Wien / Österreich
TechEd 2012 Northamerica vom 11. bis 14. Juni in Orlando / USA
TechED 2012 Europe vom 25. bis 29. Juni in Amsterdam / Niederlande