Podcast: Play in new window | Download (Duration: 37:44 — 34.6MB)
Subscribe: iTunes | Android | RSS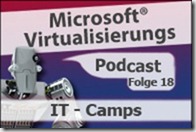 Wenn Ihr den Podcast hört habt Ihr bestimmt mitbekommen, dass ich mit Microsoft in den letzten Wochen ein wenig unterwegs war. Wir haben gemeinsam in etlichen Städten die IT-Camps veranstaltet. Aber was ist das? Das erfahrt Ihr in dieser Folge im Schwerpunktthema. Zusätzlich gibt's wie immer viele Links auf Posts und Videos und Veranstaltungstipps.
Ich wünsche euch beim Zuhören viele Erkenntnisse und soviel Spaß, wie ich beim Zusammentragen der Infos hatte.
Shownotes:
Links, News und Videos (ab 1:06)
Great info on Hyper-V Dynamic Memory and Virtualizing SQL Workloads von Peter Zerger auf System Center Central
Hyper-V im Failover-Cluster, Cluster Shared Volumes, das Backup und der Redirected Mode von Jan Kappen auf Hyper-V-Server.de
Comprehensive list of Hyper-V updates ( 2008, 2008R2 and 2008R2SP1 versions ) von Alessandro Cardoso auf Virtualisation & Management Blog
Windows: Hyper-V Server 2008 R2 mit Hyper-V Guest Console und RDP von Andreas Weber auf Andy's Blog
Windows 8 Storage and Hyper-V – Part 1: Introduction und Part 2: VHDX and PowerShell von Hans Vredevoort auf Hyper-V.nu
New Release: Set-LinuxVM v3.0 (Unattended Linux VM Configuration Tool for Hyper-V) von Yusuf Ozturk auf www.yusufozturk.info
WINone: Folien und Nachträge zu Windows Server 8 von Nils Kaczenski auf faq-o-matic.net
Skimming a Hyper-V Service Event log with PowerShell von Brian Ehrler auf I.T. Proctology
Hyper-V Server 2008 R2 Netzwerk- und Cluster-Konfiguration von Carsten Rachfahl auf Hyper-V-Server.de
Video and Audio (ab 11:39)
Edge Show Episode 11 – Upcoming Changes in System Center 2012 von Simon Periman auf TechNet Edge
System Center Universe 2012 Recordings vom 19. Januar 2012
Unser Besuch auf dem Hyper-V.nu Treffen in Amsterdam auf Hyper-V-Community.de
Gute Gründe für Virtualisierungslösungen von Microsoft Livetalk von Christian Decker und zwei Partner erschienen auf Katapult.tv
TechNet Radio: Virtual Lab Insider von John Bake erschienen auf TechNet Edge
Schwerpunktpunktthema IT-Camp (ab 18:08)
Was sind die IT-Camps? Wie Heike Ritter und Lars Schmoldt in diesem Videointerview sagen, ist es ein neues Format, das die neuen Techniken in Hands on Labs (wenn möglich) zu den IT-Pros ins Land bringen soll. Ich habe gerade Ende Januar und Anfang Februar die IT-Camps "Datacenter und Virtualisierung" mit Michael Korp und Bernhard Frank in 7 Stäten gehalten.  Und die nächsten sind schon in der Vorbereitung. So werden wir am 21. Februar in München bei Microsoft sein und während der ganzen CeBIT IT-Camps veranstalten.
Termine (ab 25:46)
Hyper-V Community Treffen mit IT-Camp am 21. Februar bei Microsoft in Unterschleißheim
Exam 70-659: Windows Server 2008 R2, Server Virtualization Jump Start am 23. Februar mit Simon Perriman and Philip Helsel
Online Event Microsoft Jump Start – Creating and Managing a Private Cloud with System Center 2012 am 21. bis 22. Februar und am 3. bis 4. April
CeBIT 2012 vom 6. bis 10. März in Hannover mit IT-Camp auf dem Microsoft Stand in Halle 4
IT-Administrator Training »Windows Server Best Practice« am 21. März in München, am 15. Mai in Hamburg und am 19. Juni in Frankfurt
Hyper-V PowerKurs vom 26. bis 30. März in Hallenberg
Microsoft Management Summit 2012 vom 16. bis 20. April in Las Vegas /USA
The Experts Conference 2012 US vom 29. April bis 2. Mai in San Diego / USA
System Management Summit am 9. und und angeschlossenes IT Camp am 10. Mai im Raum Frankfurt
Hyper-V PowerKurs vom 21. bis 25. Mai in Hallenberg
E2E Virtualisation Conference vom 25. bis 27. Mai in Wien / Österreich
TechEd 2012 Northamerica vom 11. bis 14. Juni in Orlando / USA
TechED 2012 Europe vom 25. bis 29. Juni in Amsterdam / Niederlande