Meine TechEd 2013 Session Favoriten
In diesem Artikel halte ich, wie in jedem Jahr, die Session fest die ich angeschaut habe und hervorragend finde. Kommt einfach ab und zu vorbei, da die Liste mit der Zeit wachsen wird.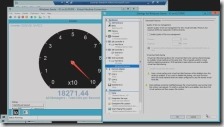 Benjamin Armstrong | Modern Datacenter | Windows Server, Hyper-V, Virtualization, Breakout | 300 – Advanced | MDC-B330 | Day 1
Join this session to learn about the new features and functionality in Windows Server vNext in Hyper-V.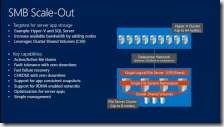 Jose Barreto | Modern Datacenter | Windows Server, Windows Server Storage, Breakout | 300 – Advanced | MDC-B335 | Day 1
We begin this session with a quick overview of the Hyper-V over SMB scenario, where we use remote file storage for your live Hyper-V files. Next, we share a few potential continuously available configurations providing specifics around the kind of Hyper-V hosts, networking and storage for each one. We conclude with a look at end-to-end performance and the most common bottlenecks for the Hyper-V over SMB scenario.
Do you use Linux and UNIX servers in your computing environment? This session gives an overview of Microsoft capabilities with Linux and UNIX in the private cloud. Learn about Linux running on Hyper-V, Linux and UNIX management capabilities that are new in Configuration Manager and Virtual Machine Manager, and enhancements in Operations Manager. We cover the strategic approach, functionality that's available, and the architectural approach for running and managing Linux and UNIX.
Jeff Woolsey | Modern Datacenter | Windows Server, Breakout |200 – Intermediate | MDC-B205 | Day 1
You heard the announcement, now get the details on the upcoming release of Windows Server. We go over enhancements and new capabilities in Networking, Storage, Hyper-V, PowerShell and availability – making it easier than ever for customers to truly embrace the cloud with Windows Server.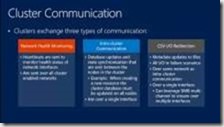 Elden Christensen | Modern Datacenter | Failover Clustering, Business Continuity, Breakout | 300 – Advanced | MDC-B337 | Day 2
This session drills into the Windows Server Failover Clustering considerations and recommendations when deploying Windows Server 2012. This session cover common questions such as: How many NIC's do you need? How do clusters communicate? How should networks be configured? This session also drills down into the cluster networking internals and architecture to get an in-depth understanding including changes in Windows Server 2012.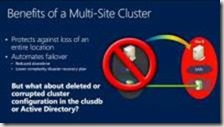 Alexander Pubanz | Modern Datacenter | Failover Clustering, Business Continuity, Breakout  | 300 – Advanced | MDC-B355 | Day 2
In this demo-driven session we look at how to recover from various Failover Cluster disaster scenarios such as an accidental deletion of the Cluster Name Object, the loss of a shared cluster disk or loss of the quorum resource. We recover an entire Windows Server 2012 Failover Cluster including all of its resources using the Bare Metal Recovery feature of Windows Backup and have a look at how Microsoft System Center 2012 – Data Protection Manager can help with a successful recovery. We also look at how to perform an authoritative restore of the cluster database and recover all cluster resources in case of an accidental deletion. Learn everything you need to prepare for a successful recovery, what lessons we learned after working with many customers on their Windows Server Failover Cluster disaster recovery plans, and how issues were resolved.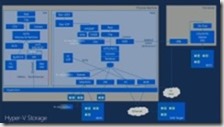 Mathew John, Liang Yang | Modern Datacenter | Windows Server Storage, Breakout | 300 – Advanced | MDC-B345 | Day 3
The Hyper-V team has performed extensive analysis of the performance characteristics of Hyper-V Storage. Come to this session to learn detailed information about how Hyper-V storage works, and what you should be considering as you are planning storage for your private cloud.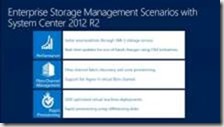 Jose Barreto, Elden Christensen, Bryan Matthew | Modern Datacenter | Windows Server Storage, Breakout | 300 – Advanced | MDC-B333 | Day 4
Regardless of whether you're building on a private infrastructure, in a hybrid environment, or deploying to a public cloud, there are optimizations you can make in storage and availability that will improve the manageability and performance of your application and environment.  Join this session to hear more about the end-to-end scale, performance, and availability improvements coming with Windows Server. We dive into deploying and managing storage using SMB shares, show the improved experience in everyday storage management such as deploying patches to the cloud, and share how to leverage faster live migration when responding to new load demands.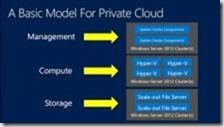 Benjamin Armstrong, Jose Barreto, Rob Hindman | Modern Datacenter | Windows Server, Breakout | 300 – Advanced | MDC-B331 | Day 3
Learn about the functionality and processes that are available to enable you to move your private cloud deployments to Windows Server vNext with zero downtime.  Understand the options that are available to you and the considerations that need to be made as you determine the best path for continuing to keep your environment on the best technology available for private clouds today.  This session covers the end-to-end approach including Hyper-V, Clustering, Storage, and Virtual Machine Manager.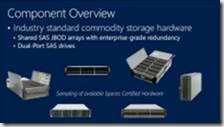 Bryan Matthew | Modern Datacenter | Windows Server Storage, Breakout | 200 – Intermediate | MDC-B218 | Day 4
In this session, learn how you can deploy Storage Spaces as the infrastructure on which your public or private cloud runs.  We demonstrate how to deliver cost efficiency, availability, and performance at enterprise and hosting scale.  We also present the solutions that are available and certified today.

Case of the Unexplained 2013: Windows Troubleshooting with Mark Russinovich
Mark Russinovich | Windows Client, Access & Management | Windows, Breakout | 300 – Advanced | WCA-B306 | Day 4
Come hear Mark Russinovich, the master of Windows troubleshooting, walk you step-by-step through how he has solved seemingly unsolvable system and application problems on Windows. With all new real case studies, Mark shows how to apply the Microsoft Debugging Tools and his own Sysinternals tools, including Process Explorer, Process Monitor, to solve system crashes, process hangs, security vulnerabilities, DLL conflicts, permissions problems, registry misconfiguration, network hangs, and file system issues. These tools are used on a daily basis by Microsoft Product Support and have been used effectively to solve a wide variety of desktop and server issues, so being familiar with their operation and application will assist you in dealing with different problems on Windows.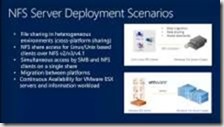 Mallikarjun Chadalapaka | Modern Datacenter | Windows Server Storage, Breakout | 300 – Advanced | MDC-B366 | Day 2
Windows Server ships with a healthy variety of Storage features that cater to Windows and non-Windows ecosystems alike, including SMB, NFS v3, NFS v4.1 and iSCSI. You might not be aware of it, but Windows Server offers a interoperable storage solution for non-Windows clients like Apple OS X, various flavors of Linux and VMware, in addition to the familiar Windows clients. Come learn how to configure a Windows Server to provide storage (block and file) to a variety of clients running many different workloads. That includes information worker storage for your Apple OS X clients and file storage solutions for VMware using NFS, or block storage solution for Linux using iSCSI, all with excellent performance and continuous availability. You might be surprised to learn that Windows Server fits all the requirements of your next multiprotocol storage solution.
Symon Perriman | Modern Datacenter | Windows Server, Failover Clustering, Business Continuity | 300 – Advanced | MDC-B305 | Day 4
Cluster deployment and management is an essential part of building a scalable application environment.  This session focuses on setting up and configuring both guest and host clustering, shows how to deploy clusters, and shares improvements in both patching and managing clusters. It also discusses cluster aware updating to deliver true continuous availability of critical business services. The session includes some of the vNext updates in Windows Server 2012 in Hyper-V.