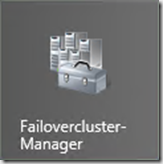 Heute ist mir bei der Prüfung einer Failover Clusterinstallation ein alter Bekannter wieder untergekommen:
Protokollname: Microsoft-Windows-FailoverClustering/Diagnostic
Quelle:        Microsoft-Windows-FailoverClustering
Datum:         16.12.2013 11:07:41
Ereignis-ID:   2051
Aufgabenkategorie:Keine
Ebene:         Fehler
Schlüsselwörter:
Benutzer:      SYSTEM
Computer:      <hostname>.rachfahl.de
Beschreibung:
[RHS] s_RhsRpcCreateResType: (21)' because of 'Startup routine for ResType MSMQ returned 21.'
Die Suche ob dieser Fehler wichtig ist oder nicht, war gar nicht so einfach. Schließlich entdeckte ich diesen Blog Post "MSMQ Errors in the Cluster.log" von Elden Christensen. Elden ist Principal Program Manager im Microsoft Cluster Team und seine Aussagen sind "Gesetz".
Quintessenz aus dem Artikel ist: Man kann den Fehler ignorieren, oder wenn er stört durch folgende zwei PowerShell Befehle entfernen:
Remove-ClusterResourceType MSMQ
Remove-ClusterResourceType MSMQTriggers