Podcast: In neuem Fenster abspielen | Download (Dauer: 45:06 — 62.1MB)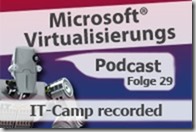 Heute geht es mal nicht um SMB 3.0,  sondern ich habe Bernhard Frank im Interview und wir sprechen über unsere vergangenen IT-Camps und unser neustes Projekt das "IT-Camp Recorded". Vorweg gibt es wie immer viele nützliche Links auf Blogposts, Videos und Audios und hinten raus die  Termine aus der Private Cloud Szene.
Ich wünsche euch beim Zuhören viele Erkenntnisse und soviel Spaß, wie ich beim Zusammentragen der Infos hatte.
Shownotes:
Links und News (ab 1:14)
Storage Spaces Frequently Asked Questions (FAQ) auf TechNet Wiki
Windows Server/System Center MVP Speaker Series Starting This Week! von Travis Wright auf The System Center Team Blog
How to install integration services when the virtual machine is not running von Sarah Cooley auf Virtualization Blog
Teaming and MPIO for Storage in Hyper-V 2012 von Eric Siron auf dem AltaroHyper-V  Blog
Two new books on Hyper-V: Networking & Storage! von Mitch Garvis auf seinem Blog
Using RAMDisk To Test Windows Server 2012 Network Performance von Didier Van Hoye auf seinem WorkingHardInIT Blog
File Server Tip: How to rebalance a Scale-Out File Server using a little PowerShell von Jose Barreto auf seinem Blog
Video und Audio (ab 9:23)
Episode 105 – General Availability of Windows Azure Infrastructure as a Service (IaaS) auf Windows Azure Cloud Cover Show
Interview mit Alessandro Cardoso über sein Buch: System Center Virtual Machine Manager 2012 Cookbook mit Carsten Rachfahl
Interview mit Didier Van Hoye über seinen Storage, Netwerk und mehr mit Carsten Rachfahl
EdgeShow 59 – MMS 2013 ServerQuarium walkthrough mit Rick Claus and Jeff Woolsey
TechNet NewsFlash Ausgabe 08/2013 von Heike Ritter und Bernhard Frank
Episode 226 – PowerScripting Podcast – The Virtual PC Guy Ben Armstrong talks virtualization and PowerShell
Videocast Serie Scale-Out Fileserver erklärt: Teil 1, Teil 2, Teil 3 und Teil 4 von Carsten Rachfahl
Schwerpunktthema "IT Camp Recorded" (ab 16:50)
Im Podcast Interview habe ich Bernhard Frank (Microsoft Private Cloud Evangelist) und wir unterhalten uns über unsere IT-Camps die wir in den letzten 9 Monaten überall in Deutschland abgehalten haben. Dann sprechen wir über meinen Besuch in Unterschleißheim wo wir das IT-Camp  für die Nachwelt festzuhalten. Mal sehen ob es gelungen ist. Und da ich Bernhard schon am Mikro hatte sprechen wir auch noch über den TechNet Newsflash als PodCast.
Verlosung zweier Bücher (ab 34:56)
Auf dem MVP Summit 2013 in Redmond habe ich mit zwei Autoren ein Videointerview geführt: einmal mit Leandro Cardos zu seinem Buch Windows Server 2012 Hyper-V Cookbook und mit Alesandro Cardoso zu seinem Buch System Center Virtual Machine Mananger 2012 Cookbook. Sowohl Leandro wie auch Alesadro habe mir für den Podcast ein Signiertes Exemplar zur Verfügung gestellt und Ihr erfahrt im Podcast wie ihr an der Verlosung teilnehmen könnt.
Termine (ab 37:33)
7te Deutsche SCSM & SCO UserGroup am 24. Mai in Köln bei Microsoft
Webcast Dell Solution Webcast – SMB 3.0: Die neue Generation des Dateiserver Protokolls und dessen Möglichkeiten mit Carsten Rachfahl am 29. Mai
E2EVC Konferenz vom 31. Mai bis 2. Juni in Kopenhagen
TechEd 2013 North America vom 3. bis 6. Juni in New Orleans/USA
Hyper-V PowerKurs V2 vom 11. bis 15. Juni in Hallenberg
Hyper-V Community am 13. Juni in Berlin
Best of MMS2013 am 19. Juni in Antwerpen
TechED 2013 Europa vom 25. bis 28. Juni in Madrid/Spanien
System Center Internals Day 2013 – Connecting SC Users am 28. Juni in Unterschleißheim
Dell Solution Webcast – Hyper-V in Windows Server 2012 mit Carsten Rachfahl am 26. Juni
Build 2013 vom 26. bis 28. Juni in in San Francisco
Hyper-V PowerKurs V2 vom 22. bis 26. Juli in Hallenberg
ice2013 am 24. August in Lingen
System Center Universe 2013 DACH vom 16. bis 17. September in Bern
Microsoft Server Summit vom 25. bis 27. September in Berlin